The Lo-Dough sausage roll has arrived: It's time to get your rolling pin out and curb those cravings with a little touch of low carb, homemade magic.
How many times have you walked past a Greggs and kicked your diet in at the last minute? The thick pastry layered sausage roll contains a whopping 22g of fat and a total of 327 calories. Delicious? Absolutely. Good for the waistline? Absolutely not. But as we know the path to hell is paved with good intentions...
Let's revise.
Lo-Dough works great with a rolling pin. Add your favourite sausage meat and sauce and you've got yourself a low carb sausage faux roll.  Cut into two and enjoy as a snack or light meal, or serve as party bites at your next social gathering.

Top tip: add a little herbs and dehydrated cheese sprinkles before you bake for an extra crispy and tasty finish.
Lo-Dough is:
High fibre | fat free | low-carb | gluten free | dairy free | high protein | paleo | vegetarian | sugar free 
More info on how to use Lo-Dough as a pastry alternative
Ingredients
100g of gluten free sausage meat
1 piece of Lo-Dough
One large free-range egg
What you'll need
This diet-friendly recipe is possible with:

Original Lo-Dough Bases
Regular price
from £3.49
Out of stock
Method
Preheat the oven to 180°C.
Make an egg wash and get your pastry brush at the ready.
Take a piece of Lo-Dough out of the packet and peel away the paper.
Using your rolling pin, roll the Lo-Dough out until flat.
Take a generous portion of sausage meat (we used less than a quarter of our packet and this filled it out nicely) and roll into a thick sausage shape, leaving enough space at the top and bottom of the Lo-Dough for rolling.
Add egg wash around the edges of the Lo-Dough.
Roll up! Roll over and under from top to bottom, and then take the left-hand side and roll over into a sausage roll.
Paint your sausage roll with light, even coat of egg wash.
Place in the oven and bake for approx 15-20 minutes until golden brown.
Remove from oven and cut into two portions.
Serve with your favourite sauce for dipping.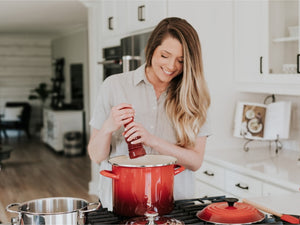 Hungry for more recipes?
Join over 200,000 subscribers in receiving new recipes, tips, offers and a whole lot more.