When it comes to devouring a tasty toastie, this one has got to be one be our all-time favourites. The sweet nutty taste of the butternut squash, combined with the milky, creamy taste of the mozzarella makes this toastie a truly delectable treat.
The Italians have always known that the subtle peppery taste of Basil adds an extra oomph to any given dish, so much so that it became fondly known as the official herb of love. As legend would have it, if an Italian woman placed a sprig of basil on her balcony, it was a message to her beau that he could call that evening.
Top tip: For an additional nutritious boost, we served ours with gut cleansing red kimchi (fermented live food) and spinach salad with organic tomatoes and a sprinkle of Parsley
Ingredients
Serves 1
1 piece of Lo-Dough
50g Butternut squash, diced into 1cm cubes
10g Chorizo, dice into 1cm cubes
1 crushed garlic clove
30g Yellow pepper thinly sliced
Half a ball of thinly sliced mozzarella
A handful of fresh basil leaves
1 tbsp dried oregano
1 beaten egg
Fry light
What you'll need
This diet-friendly recipe is possible with:

Original Lo-Dough Bases
Regular price
from £3.49
Out of stock
Method
Preheat a non-stick pan over a medium-high heat and spray with Frylight.
Add butternut, chorizo, garlic and pepper and cook for 5-10 minutes, or until the butternut is crisp on the outside with a soft centre, stirring occasionally.
Tip out onto a tray with kitchen roll or jay cloth to strain off any excess oil and remove the garlic.
Layer the cooked veg onto the Lo-Dough with the basil and mozzarella.
Wrap and brush with your beaten egg wash and sprinkle with oregano.
Pop in a George Foreman Grill (or any other suitable sandwich press) for 5 Minutes and your Toasted Wrap is ready!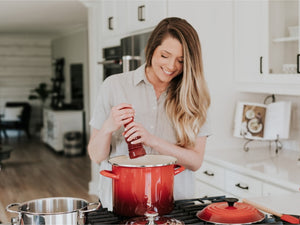 Hungry for more recipes?
Join over 200,000 subscribers in receiving new recipes, tips, offers and a whole lot more.