High-fibre & probiotic... give your stomach a reason to thank you!
The Kimcheese toasted sandwich is a modern-day classic as far as we are concerned. Tasty as hell and full of probiotic goodness... it's almost a perfect lunch. Well, if you are looking to get those calories and carbs down - then making it with Lo-Dough is the way to go. Another added bonus, of course, is that with Lo-Dough, you get a massive hit of fibre - making this sandwich doubly good for your gut health.
Oh yeah - that crispy cheese on the outside? You want that on your toastie! 
It's quick, it's three ingredients and it's good for your gut... what's not to love? 
Ingredients
Serves 1
1 piece of Lo-Dough
60g of cheddar
2 spoons of kimchee
A few sprays of spray oil
What you'll need
This diet-friendly recipe is possible with:

Original Lo-Dough Bases
Regular price
from £3.49
Out of stock
Method
Preheat your sandwich press/griddle.
Add most of your cheese and kimchee to one half of the Lo-Dough, then close over the lid half of the Lo-Dough.
Spray the sandwich press/griddle with oil, place your Lo-Dough sandwich in - add some more cheese on top to crust up against the grill bars - then close the press.
Cook for 3-4 mins and serve.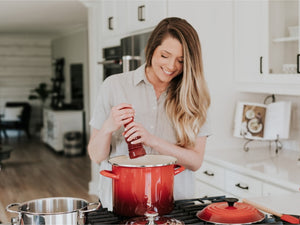 Hungry for more recipes?
Join over 200,000 subscribers in receiving new recipes, tips, offers and a whole lot more.