These fun, brownies are the perfect sweet, spooky treat for Halloween
These are great fun to make with the kids and serve up for Halloween. Ok, so the additional white chocolate and marshmallow will up the sugar and calorie content a little, but serving with a Lo-Dough Brownie still keeps it manageable and as a bit of a treat, these are great fun. 
Happy Halloween! 
Ingredients
Serves 9
1 pack of Lo-Dough Brownie Mix
9 marshmallows
135g of white chocolate
A tiny amount of dark chocolate for decoration
What you'll need
This diet-friendly recipe is possible with:
Lo-Dough Brownie Mix
Regular price
£5.59
Out of stock
Method
Make the Lo-Dough Brownie Mix as per the packet instructions, though for this we recommend a 6 or 7 inch brownie tin.
Add the mix to your lined tin and bake for 25 minutes at 190C.
Allow to cool (as per the instructions) and then cut into 9 portions.
Decorate by adding a marshmallow to the top of each brownie and pouring a tablespoon of melted white chocolate of one side of each one. Allow this to set (5-10mins in the freezer will speed this up), then use the back end of a skewer and the dark chocolate to paint on the faces.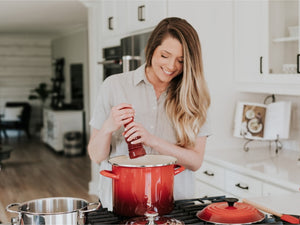 Hungry for more recipes?
Join over 200,000 subscribers in receiving new recipes, tips, offers and a whole lot more.