The timeless combination of ham and leeks is perfect on this low-calorie pizza
Bianca (white) pizzas are a wonderful alternative to the usual passata based pizzas. In this riff on the genre, we've come up with a British kind of twist, flavour our white pizza with ham and leeks. By switching the usual pizza base out for Lo-Dough, you are dramatically slashing the calories and carbs while upping the fibre of this delicious meal. You must give this one a go! 
Ingredients
Serves 1
1 piece of Lo-Dough
70g of grated mozzarella
2 tablespoons of creme fraiche
50g finely sliced leek, softened in some spray oil
1 slice of ham, broken into small pieces
What you'll need
This diet-friendly recipe is possible with:

Original Lo-Dough Bases
Regular price
from £3.49
Out of stock
Method
Preheat your oven to 220°C/Gas 7.
Mix the creme fraiche and half the cooked leeks and spread on the smooth side of your Lo-Dough, spreading right to the edge. Then add your grated cheese, again, spreading right to the edge.
Add the ham and the remaining leeks.
Bake in your oven for 7-10 minutes, or until golden and bubbling. Serve straight away.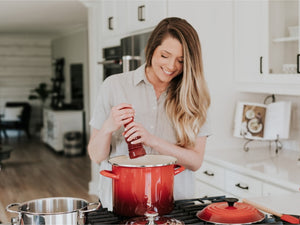 Hungry for more recipes?
Join over 200,000 subscribers in receiving new recipes, tips, offers and a whole lot more.