A simple low-calorie side dish — full of goodness and seriously tasty to boot.
If you are looking for a great side dish to accompany your Lo-Dough main, while trying to keep the cals down or the heath benefits up AND keep it full of flavour, this warm salad of broccoli, with a harissa yoghurt dressing is the perfect option. It's light, yet filling and the harissa gives it incredible spicy pep. 
Top tip for cooking broccoli to perfection
The simplest way to cook your broccoli is actually in a microwave. Simply add to a bowl with a splash of water, season, cover with clingfilm and cook for 4-5 mins on full power. This steams the vegetable, meaning all the healthy minerals stay in the veg - and ultimately find their way into you! 
Ingredients
Serves 6
600g of broccoli broken into florets, with the stems sliced into pieces (approx. pound coin thickness)
A handful of fresh mint and coriander leaf, roughly chopped
20g of harissa
80-100g of fat free yoghurt
1 clove of garlic, crushed
1 red chilli, deseeded and finely sliced
Salt and black pepper
Method
Season and cook your. broccoli florets for approx. 4 mins, or until tender.
Mix the harissa, garlic and most of the yoghurt in a bowl to make a dressing, saving a couple of spoons of yoghurt back for garnish.
Arrange the broccoli on a plate. Throw over the chopped herbs and slices of chilli, then flick the yoghurt and harissa dressing over at random. Flick over the remaining yoghurt for a striking colour contrast.
Season to taste.
If preparing ahead, place the broccoli florets into ice cold water after cooking and drain once cooled. This will stop the cooking and preserve their colour.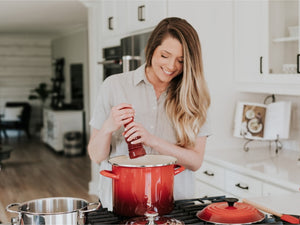 Hungry for more recipes?
Join over 200,000 subscribers in receiving new recipes, tips, offers and a whole lot more.