An incredibly low-calorie pizza recipe with ham and pineapple
It's the pizza combination that divides us all. Ham and pineapple. Fruit? On Pizza? Well here at Lo-Dough, we think a Hawaiian pizza can be a thing of beauty - and when you are using Lo-Dough as an alternative pizza base at just 39 calories (per base) - you can enjoy this delicious treat even more. Nutrition up, calories down. Whether you like pineapple on your pizza or not, this is a winning recipe. 
Low-calorie pizza recipes with Lo-Dough
Pizza is done differently with Lo-Dough - not only do we slash the calories and make eating pizza part of a super healthy and slimming diet, it can also promote better nutrition. High fibre, high protein, low calorie, and 100% melt in the mouth lovely.
Inspired? Check out the ultimate guide to Lo-Dough pizza making here.
Did you know?: Hawaiian pizza with pineapple doesn't actually come from Hawaii. It was created by chance in a restaurant by a Greek man named Sam Panopolous in Canada. 
Buy your Lo-Dough bread and pastry alternatives today. 
Ingredients
1 piece of Lo-Dough
2 slices of ham
2 rings of pineapple from a tin
75g of mozzarella cheese
2 tablespoons of passata
A twist of black pepper
What you'll need
This diet-friendly recipe is possible with:

Original Lo-Dough Bases
Regular price
from £3.49
Out of stock
Method
Preheat your oven to 220°C/Gas 8.
Spread the passata across the Lo-Dough in a thin layer, right up to the edge.
Spread grated cheese on top of the passata, add the ham and pineapple, then put the pizza in the oven for 7 minutes or until golden and bubbling.
Serve with a crack of black pepper on top.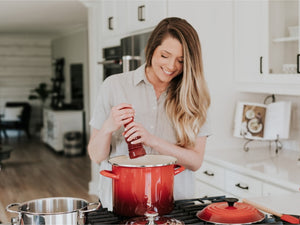 Hungry for more recipes?
Join over 200,000 subscribers in receiving new recipes, tips, offers and a whole lot more.