Comforting Crumble... Low-Carb and High-Fibre Dessert Perfection
Is there any dessert in the world more comforting than crumble? Hot, sweet fruit buried under a layer of crunchy, buttery topping, usually served with hot custard, cold ice-cream or just a lick of cream. 
The problem is, as ever, white flour. When combined with butter and sugar you end up with the triple threat of refined carbs, fat and sugars. By switching the flour for Lo-Dough and the sugar for sweetener, you end up removing two of the main sources of calories. A little butter is still required to give you that familiar, comforting richness, but at this point, it's much more manageable. What's more, because it's Lo-Dough, you are upping the fibre content of the dish by 9.3g - so it actually has an additional health benefit over a bog standard crumble. We even have enough room carbs and calorie-wise to throw a small handful of oats in the mix for additional texture, as well as additional fibre. 
Fruit is another fantastic sauce of fibre, as well as a number of other vitamins and nutrients - and in this particular case, we have combined rhubarb, plums and blackberries. The result is nothing short of crumble heaven... sharp, sweet, soft, crunchy... everything you could ever want from a crumble!
Low-Calorie Crumble
This low-calorie crumble is easy to make and a delicious dessert to have in your Lo-Dough armoury. Shop carefully for gluten-free oats and this dish will remain gluten-free too. Additionally, this crumble will easily serve two (very generous) portions and so makes your Lo-Dough go further. 
Lo-Dough works in an incredible number of desserts and sweets. Have a look at all the recipes we have available. 
Ingredients
Serves 2
For the stewed fruit
120g (2-3 stalks) of rhubarb, cut into centimetre thick pieces
100g of plums (approx. 2), de-stoned and chopped into small pieces
100g of blackberries
3-4 teaspoons of sweetener (depending on preferred sweetness)
For the Topping
1 piece of Lo-Dough, blitzed to fine crumbs
2 tablespoons of butter
A heaped tablespoon of oats
3-4 teaspoons of sweetener
A pinch of cinnamon/nutmeg/allspice if desired
What you'll need
This diet-friendly recipe is possible with:

Original Lo-Dough Bases
Regular price
from £3.49
Out of stock
Method
Make the crumble topping. Add the Lo-Dough crumb, oats, butter and sweetener to a frying pan on a medium heat. Stir for approx. 5 minutes, or until starting to turn golden brown. Add in a pinch of any spice you might like to use and put to one side.
Wipe out your pan and over a medium heat, add the sliced rhubarb, sliced plums, blackberries and sweetener with enough water to half cover the fruit. Simmer away until the fruit is tender and the liquid has reduced and thickened, becoming slightly syrupy.
Pour the cooked fruit into an oven proof bowl and then top with the crumble mix. Bake in a medium hot oven (Gas 6 - 180C) for approx. 25-30 mins or until the fruit is bubbling up from under the crumble.
Allow to cool for 5 mins before serving - the topping will actually go crunchier! Serve as it is, or with either cream, creme fraiche, ice-cream, custard - what ever you prefer with crumble.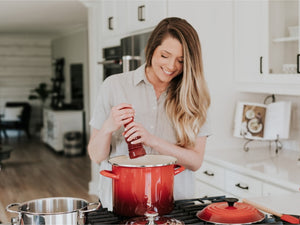 Hungry for more recipes?
Join over 200,000 subscribers in receiving new recipes, tips, offers and a whole lot more.