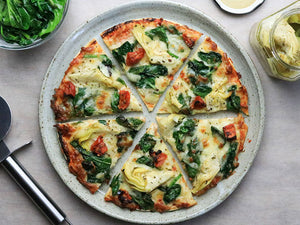 gluten-free
vegetarian
Low-Cal Fibre-Packed Artichoke & Spinach Pizza
Share
Facebook
Twitter
WhatsApp
Email
A high-fibre, veggie delight without the carbs and calories - this pizza hits the spot!
For those of you struggling to get your recommended daily intake of fibre, this pizza is a godsend. This delicious, cheese-loaded pizza comes in at just 347 calories and 8g of carbs but supplies an incredible 14g of fibre per pizza - nearly half your daily allowance in a delicious, indulgent pizza!
We know we say this a lot, but you've GOT to try this one!
Ingredients
Serves 1
1 piece of Lo-Dough
75g of grated mozzarella
2 tablespoons of passata
45g of marinated artichokes, halved
40g of spinach, wilted
15g of sun-blushed tomatoes, roughly chopped
What you'll need
This diet-friendly recipe is possible with:

Original Lo-Dough Bases
Regular price
from £3.49
Out of stock
Method
Preheat your oven to 220°C/Gas 7.
Spread the passata on the smooth side of your Lo-Dough, spreading right to the edge. Then add your mozzarella, again, covering right to the edge.
Top with artichokes, spinach and tomatoes/.
Bake in your oven for 7-10 minutes, or until golden and bubbling. Serve straight away.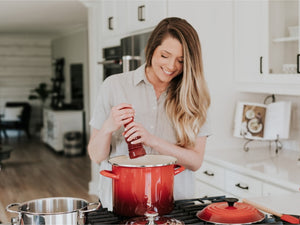 Hungry for more recipes?
Join over 200,000 subscribers in receiving new recipes, tips, offers and a whole lot more.