Combine Lo-Dough products for an incredible sweet treat that's packed with fibre, low in calories and full of flavour!
We've got several products available now and some of them combine brilliantly to make something bigger than the sum of its parts. These Caramel Crunch Brownies do just that. Take our incredibly low calorie brownie mix - a great base pad, that, with the addition of a chunk of our Caramel Crunch cake bar, is transformed into something else entirely. 

Then look at the macros you get for the indulgence of the flavour.... you know it makes sense! Low-calorie, low impact carbs, high-fibre... these brownies are something to behold!
Ingredients
Serves 9
1 pack of Lo-Dough Brownie Mix
1 banana
What you'll need
This diet-friendly recipe is possible with:
Lo-Dough Brownie Mix
Regular price
£5.59
Out of stock
Method
Make the Lo-Dough Brownie Mix as per the packet instructions.
Cut a Caramel Crunch cake bar (or two bars if you like - nutritional info here is for one) into nine chunks.
Add the mix to your lined tin, decorate with the nine cake bar chunks and bake for 25 minutes at 190C.
Allow to cool (as per the instructions) and then cut into 9 portions and serve.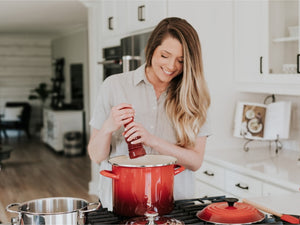 Hungry for more recipes?
Join over 200,000 subscribers in receiving new recipes, tips, offers and a whole lot more.