gluten-free
vegetarian
High-fibre, low-cal French toast with bananas and raspberries
Share
Facebook
Twitter
WhatsApp
Email
A High-Fibre, Fruity Breakfast, Packed Full Of Flavour & Energy
For those who like something sweet to start the day, this dish is the one for you - especially if you are looking to get half your day's fibre before you have even left your house.
Slightly softened and sweet caramelised bananas (we use just half a teaspoon of sieved icing sugar to get the effect), tart raspberries and the soft, rich eggy bread combine perfectly on your breakfast plate - and it's all for an incredibly low 263 calories. Low-calorie food simply should not taste THIS good. 
(Top tip - if you like your fruit raw - just skip the caramelising step on the bananas!)  
It does contain 37g of carbohydrate, but the vast majority of this (87%) comes from the fruit and so is not the kind of carbohydrate you should be too worried about anyway ). When you are supplying your body with such a super dose of fibre and nutrients, the health benefits of these fruits combined with Lo-Dough far outweigh any other dietary concerns (unless of course low-carbohydrate is a medical requirement).
Low-Calorie French Toast
Making french toast with Lo-Dough is an incredibly easy and quick recipe to follow. Check out our step by step guide for all the tips you need, or just follow the method below for a perfect breakfast for someone who likes their morning meal that little bit sweeter. 
Why not give this simple Lo-Dough breakfast hack a try this week? 
Ingredients
Serves 1
1 piece of Lo-Dough, cut into quarters
1 large egg, beaten
20g Sukrin sweetener (or any sweetener of your choice)
20ml of milk (semi-skimmed)
1 teaspoon of nutmeg
Half a teaspooon of icing sugar
1 banana
40g of raspberries
Spray oil/butter
What you'll need
This diet-friendly recipe is possible with:

Original Lo-Dough Bases
Regular price
from £3.49
Out of stock
Method
Add the eggs, sweetener, milk and spice to a bowl and mix well with a fork. When combined, add your Lo-Dough.
Leave this mix in the fridge for a minimum of 30 minutes, for the Lo-Dough to absorb the liquid.
On a very low heat, add the spray oil/butter and gently fry the cinnamon toast until golden brown.
Serve with a caramelised banana or raw banana if you prefer. If caramelising, use a kitchen blow torch or hot grill to brown the icing sugar on top of the banana. Finish with a handful of raspberries.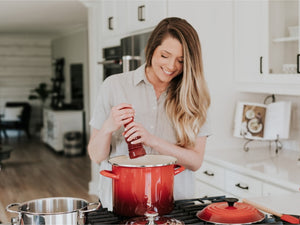 Hungry for more recipes?
Join over 200,000 subscribers in receiving new recipes, tips, offers and a whole lot more.