A Seriously Tasty High-Fibre, Low-Calorie Pizza
Here's another pizza classic from Lo-Dough HQ. This one takes earthy mushrooms, sweet beetroot, tender broccoli and salty ham and sits them atop a cheese and tomato pizza. The result is another flavour SMASH... a total lip-smacking treat. Here's the rub: It's as healthy for you as it is tasty. It clocks in at a whopping 14.3g of fibre, 28g of protein and only 14g of carbs and 346 calories. Make it with Lo-Dough and just watch those macros turn in your favour. Lo-Dough on its own contains a massive 9.3g of fibre, so when combined with fibre-rich vegetables such as broccoli and beetroot, you'll find yourself eating approximately half your daily requirement of fibre in one sitting.
Which foods are rich in fibre?
Fibre is found in most plant foods including:
Vegetables such as carrots, broccoli and potatoes (skins)
Fruits such as apples, bananas and berries
Legumes like beans, lentils and peas
Wholegrains like bread, pasta, rice and breakfast cereals
Different grains like oats, barley, rye
Nuts and seeds like almonds and sunflower seeds
Foods that contain inulin such as garlic, artichokes and asparagus
Psyllium extracted from plant ago ovato which is added to foods to increase the fibre content such as Lo-Dough
Give this pizza a go - you'll love the flavour and the feeling of getting to eat pizza with such incredible health benefits! 
Ingredients
Serves 1
1 piece of Lo-Dough, lightly fried on both sides in spray oil
1 slice of ham, torn into pieces
75g of cooked beetroot, diced
100g of broccoli, cut into florets
2-3 chestnut mushrooms, sliced
75g of grated mozzarella
75g of cooked beetroot, diced
2 tablespoons of passata
A twist of black pepper
What you'll need
This diet-friendly recipe is possible with:

Original Lo-Dough Bases
Regular price
from £3.49
Out of stock
Method
Preheat your oven to 250°C/475F/Gas 9.
Steam or boil your broccoli for about 3 minutes, just to soften.
Spread the passata across the pre-browned Lo-Dough in a thin layer, right up to the edge.
Spread most of the grated cheese on top of the passata and then add the ham and vegetables. Add the last sprinkle of the cheese and then put the pizza in the oven for 7-10 minutes or until golden and bubbling.
Serve with a crack of black pepper and a little finely chopped chilli/parsley, if desired.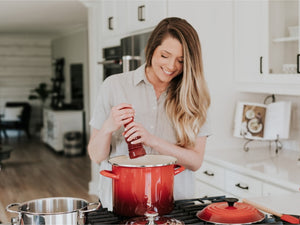 Hungry for more recipes?
Join over 200,000 subscribers in receiving new recipes, tips, offers and a whole lot more.