Make Lunch A Gut-Friendly Powerhouse With This Incredible Veggie Quiche!
Healthy veggie food need not be boring and this quiche is a case in point. Easy to make, packed with vegetables and utterly delicious, this quiche is perfect for veggies and meat-eaters alike. Low in calories and carbs and yet high in fibre, having a recipe like this in your culinary library just makes perfect sense! 
We've made ours with full-fat creme fraiche - you could go for the half fat version if look to reduce the calories further. 
Ingredients
Serves 4
One piece of Lo-Dough, rolled flat with a rolling pin
50g of cooked asparagus, chopped
50g of cooked broccoli, chopped
50g of mushroom, chopped
20g of mushroom, finely sliced
10g of finely grated parmesan
4 large eggs, beaten
150ml of creme fraiche
A tablespoon of chopped parsley
Salt & pepper
What you'll need
This diet-friendly recipe is possible with:

Original Lo-Dough Bases
Regular price
from £3.49
Out of stock
Method
Preheat the oven to 160C/325F/Gas 3.
Push the flattened Lo-Dough into a 7inch tin. Make sure to do this evenly, taking care to push it into the corners and create an upright edge.
Arrange the cooked veg in the base.
Whisk the 4 eggs and creme fraiche in a jug with the finely chopped parsley, salt and pepper. Add the grated cheese on top.
Bake in the oven for 30 minutes. Take out and allow to cool on a rack for at least 10 mins. Enjoy warm or cold!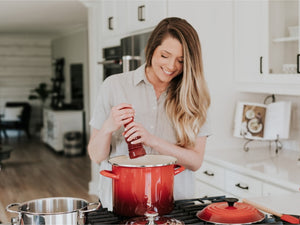 Hungry for more recipes?
Join over 200,000 subscribers in receiving new recipes, tips, offers and a whole lot more.