Low-Fat, Slimming Friendly Kebabs, Delivered By Lo-Dough
We've designed these kebabs with slimmers AND gym-goers in mind. Turkey breast is lean, low-fat and super-high in protein and makes the perfect kebab for both groups of dieters. Fear not - they are still packed full of flavour and careful cooking of the turkey means these won't dry out, as is often the concern with white turkey meat. The flavour comes from a mix of herbs and spices - a liberal sprinkling of both - as well as a low-fat mint yoghurt raita. 
Look at the nutritional info: 221 Calories, 10g of carbs, 3g of fat, 35g of protein and 10.3 grams of fibre - the numbers are pretty mind-blowing, right? 
The easiest way to make the koftas is to quickly griddle them and then transfer them in a low to medium oven to finish cooking whilst retain some moisture. If you are struggling for free hands or a griddle pan, just start them in a high oven for five mins and then lower the temperature to complete the cooking. 
Lo-Dough - The Low-Carb Bread Alternative
No matter what your diet, Lo-Dough gives you the choice as to how you use it. If watching carbs, we've got you. Watching fat? We've got you too. Calorie-counting? It's all covered. Lo-Dough is the launchpad from which all diets can and should begin their journey. Gone are the days where joyful food like pizzas, pies and pudds are off the menu... Welcome to the food revolution.  
Ingredients
Serves 1
1 piece of Lo-Dough
100g of turkey breast mince (lean turkey mince)
1 clove of garlic, crushed
20g of white onion, finely chopped
A few leaves of lettuce
10g of red onion, finely sliced
1 or 2 cherry tomatoes, sliced
10-20g of red cabbage, finely sliced
20g of cucumber, deseeded and finely sliced
A few pomegranate seeds if desired
A small handful of chopped fresh mint and coriander
A tablespoon of low-fat yoghurt
3-4 pickled jalepenos
4-5 sprays of fry-light
Salt & pepper
What you'll need
This diet-friendly recipe is possible with:

Original Lo-Dough Bases
Regular price
from £3.49
Out of stock
Method
Roll out your Lo-Dough thinly between two sheets of the paper found in the packet with the Lo-Dough.
Preheat your oven as high as it goes (or if using heat up a griddle pan and put your oven on approx 160/Gas 3.
Mix the turkey mince, garlic, white onion, and curry powder and form into your desired kofta shape - either a long sausage or and torpedo shape.
Place in the hot oven and cook for 5 mins before turning down to 160/Gas 3 for 15 minutes. Alternatively, griddle for a couple of minutes on each side and place in the oven for a further 15 mins at 160/Gas 3.
While it cooks, arrange all the salad ingredients on your Lo-Dough.
Once ready, add your kofta and then drizzle with the yoghurt. Add a little chilli sauce if desired. Serve.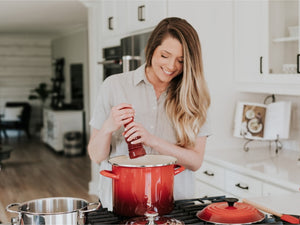 Hungry for more recipes?
Join over 200,000 subscribers in receiving new recipes, tips, offers and a whole lot more.