Low-Calorie Pizza... It's Another East-Meets-West Mash Up
It shouldn't work, but it just does... sweet and fragrant hoisin sauce, duck, spring onion and (lightly pickled) cucumber all on top of a cheesy pizza! Some mash-ups are worthy of the suspicion they are treated with, but trust us, this one is brilliant. 
There are a couple of tricks to making it work properly. Cucumber doesn't really bring much to a pizza unless you pickle it first. To do this, mix equal parts water and vinegar, with a little salt and a little sweetener and leave the cucumber in this mix for a minimum of 20 minutes (these can be done a day ahead if desired). Additionally, to keep the hoisin from dominating the flavour on the base, you need to go half passata, half hoisin.
The other trick here is to buy a prepared hoisin duck pack from your local supermarket. The duck legs will already be cooked and just need heating through and the sauce will be also be supplied. You'll only need a quarter of a duck leg per pizza, so you could treat yourself to duck pancakes one night and pizza the next.
Finally, go with Eatlean's 'Tasty' as your cheese of choice - though low fat, it's still full of flavour and that's exactly what you need to stand up to the hoisin.  
The end result is a delicious pizza - sweet, savoury and tangy - a total taste-explosion. 
Low-Calorie, Low-Carb & High Fibre Pizza
Nutritionally the Lo-Dough Hoisin Duck Pizza is as fantastic as usual: 364 Calories, 14g carbs and 10g fibre. That's with skin-on duck smothered in sauce! 
If you are looking for something a bit different to try with your pizza give this a go - you might just be surprised. 
At the time of writing, we now have 50 pizza recipes - from the stone-cold classics to some more experimental numbers. Check them all out in our pizza recipe section. 
Ingredients
Serves 1
1 piece of Lo-Dough
112g of duck (half a duck leg), cooked as per packet instructions and flaked into small pieces
75g Eatlean Tasty cheese
30g of cucumbers - sliced and pickled as described above
15g of spring onions, finely sliced
30-40g of hoisin sauce
30g of passata
6 sprays of oil
What you'll need
This diet-friendly recipe is possible with:

Original Lo-Dough Bases
Regular price
from £3.49
Out of stock
Method
Preheat your oven to 250°C/475F/Gas 9.
Quickly fry off your Lo-Dough in the spray oil to add some colour to the base.
Mix most of the hoisin and passata in a bowl (save a little back to top the pizza). Put the Lo-Dough onto your cooking tray/pizza stone/air-fryer stand and spoon the mix over, making sure to spread it right to the edge.
Add the cheese and the duck.
Bake in your oven for 7-10 minutes. After removing, sprinkle with the spring onions, pickled cucumber and coriander leaves for fresh flavour and colour. Serve straight away.
💡 Top Tip
If you feel you like your base could be crispier when it comes out, try adding back to a hot, dry frying pan for 8-10 seconds and remove with a spatula.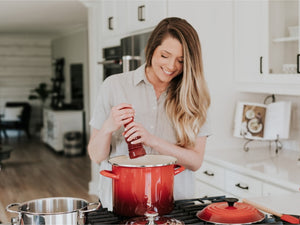 Hungry for more recipes?
Join over 200,000 subscribers in receiving new recipes, tips, offers and a whole lot more.