Homity Pie dates back to the Second World War and was popular with the Land Girls. When supplies were limited this was a tasty filling meal after a hard days work.
It has seen been revitalised into a deliciously low-calorie variation using Lo-Dough. This homely classic is a great feed for the family and is only 195 calories per slice! Enjoy hot or cold.
Recipe by slimmingworlddebsx
Ingredients
Serves 4
1 piece of Lo-Dough
400g potatoes diced (aprox. 2cm cubes)
100g diced leeks
1 medium onion cut into quarters and sliced thinly
1 clove of garlic crushed or 1 tsp dried minced garlic
1 large beaten egg
140g low fat protein cheese grated - I use Eat Lean
1 tsp mustard powder
1 heaped tsp dried thyme
1 heaped tsp chopped dried parsley
Spray of frylight
What you'll need
This diet-friendly recipe is possible with:

Original Lo-Dough Bases
Regular price
from £3.49
Out of stock
Method
Place the diced potato in a small pan and cover with water, add salt if preferred. Bring to the boil, reduce heat to a fast simmer and cook for aprox. 3 minutes until the potato is cooked. Drain and place in a large bowl.
In a non stick frying pan sprayed with frylight, add the leeks, onion and garlic and fry until softened.
Add thyme, parsley and mustard powder to the bowl with the potatoes and mix thoroughly.
Add the leeks, onion and garlic to the bowl along with 3/4 of the cheese and the beaten egg. Season and mix thoroughly.
Spray the pie plate with frylight and press the Lo-Dough into it. Place a spoonful of the filling in the middle to hold it in place, then add the rest of the filling, spreading it to the edges.
Press the mixture in firmly right to the edge of the pie. With a fork, rough up the top slightly to give a more rustic look.
Add the remaining cheese on top. Place on a baking sheet in the oven for aprox. 25-30 mins on 170° until golden.
Serve hot or cold!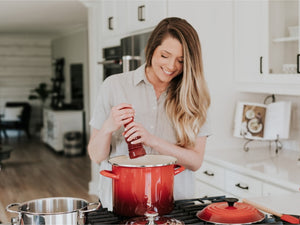 Hungry for more recipes?
Join over 200,000 subscribers in receiving new recipes, tips, offers and a whole lot more.