Low Calorie Wraps for a Bright and Breezy Lunch
The sun has come out and for us at Lo-Dough, that means light, fresh and vibrant food that can be taken outdoors to eat al-fresco.
Lo-Dough on the go.
Chicken dressed in honey, lemon and mustard, with chopped chives, sat on a mound of mixed fresh salad and wrapped up in lightly toasted Lo-Dough. 

Low on calories, low on fat and high in protein and fibre - and most importantly, bursting with flavour, this is exactly what we want be eating in nice warm weather. 
Ingredients
1 piece of Lo-Dough
100g of cooked chicken
3-4 cherry tomatoes, sliced
2 spring onions, sliced
1 radish, sliced
A handful of mixed salad
A few shavings of raw fennel
The juice of half a lemon
A teaspoon of honey
Half a teaspoon of mustard (any you like)
A teaspoon of chopped chives
What you'll need
This diet-friendly recipe is possible with:

Original Lo-Dough Bases
Regular price
from £3.49
Out of stock
Method
Mix the lemon juice, mustard, honey and chives and coat the chicken in this dressing.
Mixed the salad ingredients in a bowl.
Quickly toast your Lo-Dough lightly in a dry pan - only for a few seconds, just to get a little colour.
Place the salad on the Lo-Dough and the chicken on top and pour over any remaining dressing.
Wrap up and eat straight away, or wrap up in foil and save for later in the day.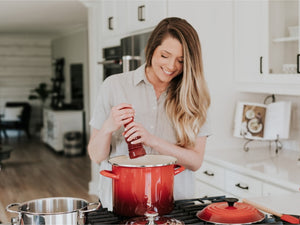 Hungry for more recipes?
Join over 200,000 subscribers in receiving new recipes, tips, offers and a whole lot more.