Your 'on plan' low calorie fakeaway is here
Low calorie lamb keema pizza is here - a spicy, East meets West flavour explosion. Flavourful lamb, oozy melting cheese, sweet peppers and onions and your ever trusty Lo-Dough base. Low calorie pizza recipes don't get much better than this.
This one lasted mere seconds over here at Lo Dough HQ, where a momentary, satisfying silence fell over the room as we all chowed down on a slice of this little beauty.
Like spicy pizza recipes? Check out our Chicken Tikka Pizza.
The ultimate low fat pizza base
Check out the ultimate guide for the best low calorie pizza recipes made with Lo-Dough
Lo-Dough is:
Gluten free
Fat free
Sugar Free
High protein
Dairy Free
Vegetarian
Only 39 calories per piece
Try your £5 sample pack today and make pizzas, wraps, desserts and pastry like never before. Shop now 
Ingredients
1 piece of Lo-Dough
100g lean lamb Mince
20g red pepper, sliced
20g onion, sliced
Half a chopped chilli
60g of light mozzarella
30g of Nowt Poncy Curry Sauce (or passata)
Half a teaspoon of cumin
Half a teaspoon of ground coriander
1 teaspoon of garam masala
A small handful of fresh coriander
6 sprays of fry-light oil
What you'll need
This diet-friendly recipe is possible with:

Original Lo-Dough Bases
Regular price
from £3.49
Out of stock
Method
Preheat your oven to 250°C/475F/Gas 9.
Fry the lamb and spices in a little fry light along with the dry spices for around 10 mins, or until nicely browned. Set aside on a plate to cool a little.
Spray 2 more sprays fry-light into the same pan you cooked the lamb in and fry off your Lo-Dough to add some colour to the base.
Put the Lo-Dough onto your cooking tray/pizza stone/air-fryer stand and spoon the curry sauce over, making sure to spread it right to the edge.
Add the spiced lamb, then arrange the mozzarella on top, before adding the peppers and onions.
Bake in your oven for 7 minutes. After removing, sprinkle with coriander leaves for flavour and colour. Serve straight away.
💡 Top Tip
If you feel you like your base could be crispier when it comes out, try adding back to a hot, dry frying pan for 8-10 seconds and remove with a spatula.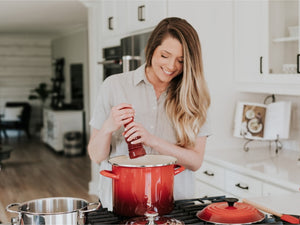 Hungry for more recipes?
Join over 200,000 subscribers in receiving new recipes, tips, offers and a whole lot more.