Perfect Keto Meal Inspiration
Did you know that Lo-Dough makes the perfect low-carb coating for meats, vegetables and cheese? Well, it really does - these golden, breaded nuggets of brie prove that point perfectly. Crunchy on the outside and soft and oozing in the middle... What's not to love? 
It couldn't be more simple. Make your crumbs, flavouring them up with herbs and seasoning (we added some of Eatlean's brilliant shaker cheese). In a second bowl, whisk up an egg. Cut your brie into about 10 pieces and put them in the bowl with the egg, coat and then throw them into the crumbs and shake until coated. For an extra thick crust, repeat the egg/crumb process a second time. Fry in olive oil (not extra virgin) on a medium/high heat until golden brown. This will give you two generous portions (5 pieces each).
Serving Up A Low-Carb Meal
We've paired our crispy, breaded brie with a reduced carb tomato and chilli chutney. By using erythritol sweetener instead of sugar, the carbs are massively reduced, but the sweet/sour flavour is all still there (the main liquid in the chutney is white wine vinegar. That sweet/sour flavour works perfectly with the rich brie. Alongside a simple salad, this would make the perfect lunch or a lovely evening meal. 
If you are following a low carb diet, then you absolutely have to try this - and if you are just generally counting calories, this would make the perfect treat meal that still comes in at under 500 kcal. 
#Make it with Lo-Dough
Ingredients
Serves 2
1 piece of Lo-Dough
A 200g wedge of Brie
A tablespoon of Eatlean's Cheese shaker
A little chopped thyme and parsley (or any herbs of your choice)
1 egg
Olive oil for frying
What you'll need
This diet-friendly recipe is possible with:

Original Lo-Dough Bases
Regular price
from £3.49
Out of stock
Method
Take your Lo-Dough and microwave it for 2 minutes. Then break it into a nutri-bullet/food processor and break down to a fine crumb. Add your herbs and the shaker cheese (or finely grated parmesan if desired). Put into a bowl.
In another bowl, lightly beat the egg.
Chop your brie into 10 roughly equal pieces.
Coat the brie pieces in the egg and then the crumbs. Repeat if desired.
Add a few tables spoons of oil to a frying pan and bring up to frying temperature (medium/high heat). Add the breaded brie and fry on all sides until golden.
Serve with our delicious low-carb tomato and chilli chutney and a side salad if desired.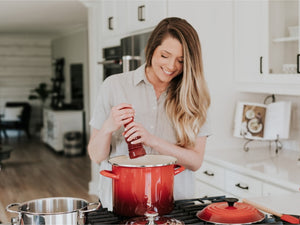 Hungry for more recipes?
Join over 200,000 subscribers in receiving new recipes, tips, offers and a whole lot more.