Low carb diet? Keto? This one's for you...
Looking for a Keto breakfast idea? Use Lo-Dough as your wrap for an amazing low carb alternative burrito wrapper. This is packed with flavoursome ingredients, all picked to hit a low carb, high fat, medium protein set of macros? Look no further than the Keto breakfast burrito - guaranteed to start any Ketogenic dieter's morning off with a bang. 
Make a low carb wrap with Lo-Dough
Packed with sausage, egg, cheese, cauliflower-rice, mushrooms and avocado and flavoured with chilli and coriander - this is the perfect fusion of English breakfast components and spicy, guacamole-style salsa.
By switching out the regular rice for cauli-rice and the tortilla out for a Lo-Dough wrap, you can enjoy a keto breakfast to rival any other, but without the excess of carbs you would normally expect to find. Thanks to the high fibre content of Lo-Dough, you won't have to worry about feeling full and satisfied either.
There are a couple of components to prepare in advance (pre-cook the sausage meat, scramble the egg and prepare the avocado), but this is a serious treat and well worth the effort, with a lot of this easy to prepare in advance and have ready in the fridge. Keto-friendly breakfasts will never be the same again!
Ingredients
Serves 1
1 piece of Lo-Dough
1 low carb sausage (we found Asda's Three Chilli sausages worked well - 2 carbs), taken out of its skin and broken into small chunks
1 large egg
70g of cauliflower rice, microwaved for 4.5 minutes
30g of grated cheddar cheese
Half an avocado, cut into small pieces
A quarter to half a red chilli, finely sliced
2-3 jarred jalepeno chillis
A teaspoon of cider vinegar
Salt & pepper
A tablespoon of olive oil
What you'll need
This diet-friendly recipe is possible with:

Original Lo-Dough Bases
Regular price
from £3.49
Out of stock
Method
Heat up a frying pan and add a half the oil and your sausage and fry until cooked. Take from pan and set aside.
In the same pan add the remaining oil and lightly scramble your egg. Scrape any of the tasty sausage bits from the pan as you do so and make sure to season to taste.
Mix the avocado with the cider vinegar as soon as it comes out, to ensure it doesn't discolour. This will also add a nice tart flavour. Mix this with the chilli and the picked coriander and set aside.
Take your Lo-Dough and roll out flat under one of the pieces of paper that comes in the pack. Add your cauliflower-rice, egg, sausage, cheese and avocado salsa. Pull and tighten and close as tightly as possible (it will be well packed!).
If you have a sandwich press, lay fold side down then close and cook for five minutes. If not, you can do the same thing in the pan you cooked your sausage in (with a little extra oil to make sure it doesn't stick). For the latter you will need to turn half way through the 5 minutes.
The cooking of the burrito should hold its shape, but you can wrap in brown paper/foil in the classic burrito stall fashion.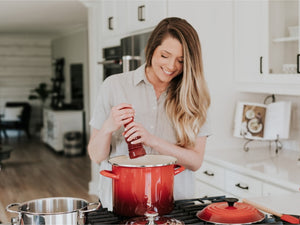 Hungry for more recipes?
Join over 200,000 subscribers in receiving new recipes, tips, offers and a whole lot more.