If You Like Coconut With Your Chocolate, This Is The One For You!
For a rich and indulgent twist on the Lo-Dough Brownie, you can add coconut cream as the liquid element of the recipe. This brings up the fat and calories a fair, bit, but with the carbs remaining at 4.5, it makes for a perfect keto recipe. Although at just 126 calories per brownie, nobody should miss out on these delicious treats.
Lo-Dough Brownies are low-carb, low-calorie, high-fibre and gluten-free. No matter what diet you are following, the Lo-Dough Brownies have got your back! 
Making your Low-Calorie Brownies
Make the Lo-Dough Brownie Mix as per the packet instructions, but swapping the water for 250ml of rich coconut cream. This will create a thick mix and will need loosening with approx. 100ml of water. Add to your baking tray and then sprinkle some desiccated coconut on top. Bake for 25 minutes at 190C. Allow to cool (as per the instructions) and then cut into 9 portions. They are now ready to serve.
Store in a sealed container in the fridge for up to 5 days.  
Ingredients
Serves 9
1 pack of Lo-Dough Brownie Mix
250ml of coconut cream
5g of desiccated coconut
What you'll need
This diet-friendly recipe is possible with:
Lo-Dough Brownie Mix
Regular price
£5.59
Out of stock
Method
Make the Lo-Dough Brownie Mix as per the packet instructions, but replacing the 250ml water with 250ml of coconut cream.
Add a little extra water (approx. 100ml) to loosen the mix.
Add the mix to your lined tin, scatter the desiccated coconut on top and bake for 25 minutes at 190C.
Take out of the oven and allow to cool a little. Cut into 9 portions and serve.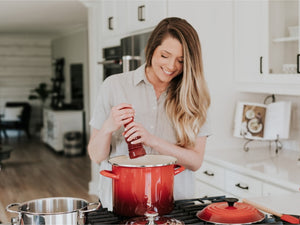 Hungry for more recipes?
Join over 200,000 subscribers in receiving new recipes, tips, offers and a whole lot more.