Low calorie dessert recipes just got even better
Ketogenic friendly dessert anyone? Creamy mascarpone, sweet and indulgent flavour and chocolate topping - It doesn't sound like it's going to be great for your waistline does it? But with Lo-Dough replacing the Savoyard biscuits (sponge fingers) and using a good quality sweetener instead of sugar, you absolutely can make this incredible low calorie dessert which is as sweet as it looks.
Just 340 Calories and 5g of carb this is an awesome recipe that tastes so good, it will defy all your nutritional expectations. If you leave off the chocolate shavings and just dust with cocoa, this is also a completely sugar-free, low-carb recipe and great for the ketogenic diet - one serving contains 30g of fat. 
Low calorie 'pick me up'
Tiramisu translates into English as 'pick me up', 'lift me up' or 'cheer me up'. Well, in our version, it's not just the coffee that picks us up and cheers us up - it's the fact that we can enjoy and indulge with no guilt or worries. That's why Lo-Dough exists - To give you back the foods you love. This recipe makes two servings, so you can share with a friend, or just leave on in the fridge for the next day.
More Lo Dough Desserts?
Ingredients
Serves 2
1 piece of Lo-Dough, cut into rough into rough inch squares
2 large egg whites
40g sukrin sweetener, or any other good quality sweetener
2 espresso shots (60ml strong coffee)
150g mascarpone
2 teaspoons cocoa
A few dark chocolate curls (optional)
What you'll need
This diet-friendly recipe is possible with:

Original Lo-Dough Bases
Regular price
from £3.49
Out of stock
Method
In one bowl, mix the mascarpone and 30g (three quarters) of the sweetener. Beat it a little to loosen the mascarpone.
In another bowl, using an electric whisk (or a normal whisk and lots of elbow-grease!), whisk the egg whites until they have formed soft peaks.
Gently fold the egg whites into the mascarpone, being careful not to knock out the air you just whisked into the whites.
Add the remaining sweetener to the coffee and add the Lo-Dough squares in to soak.
Arrange two serving bowls - you will use half of the coffee soaked Lo-Dough in each bowl. First add a spoon of the creamy mix then some Lo-Dough, more mix, more Lo-Dough and finish with final layer of the mascarpone mix. Build the bowls up together so they are even portions!
Dust with the cocoa, through a fine sieve and add the chocolate curls if using. Can be served straight away or chilled in the fridge.
💡 Top tip
To make chocolate curls, put the chocolate block on a board, smooth side up. With the blade facing down towards the choclate, drag the knife along the chocolate to create fine shards and curls. Alternatively - just grate some chocolate to finish.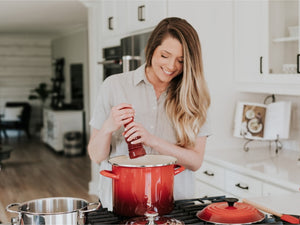 Hungry for more recipes?
Join over 200,000 subscribers in receiving new recipes, tips, offers and a whole lot more.