Ketogenic Friendly Fritters with Chorizo 
Being on a 'ketogenic' diet is becoming increasingly popular, and these keto-friendly chorizo fritters have been a huge hit with those focused on a ketogenic diet.  Here at Lo-Dough we've gone a bit keto-crazy and have come up with a great and adaptable recipe to suit specific dietary needs.
Using a classic fatty Spanish ingredient - chorizo, binding it with our Lo-dough fritter mix and serving it alongside some delicious garlic-mayonnaise (or aioli as it's known in Spain), we've come up with a fantastic and incredibly tasty keto-friendly lunch. 
Put a poached or fried egg on top for no extra carbs. Try the keto chorizo fritters today
Benefits of a Ketogenic diet
The ketogenic diet (or keto diet) has been practised for more than nine decades  and is based upon a solid understanding of physiology and nutrition science.
Rather than focusing on low calorie meals, the keto diet is high-fat with a decent amount of protein. Food consumed on a keto diet is very rich and portion control will come naturally. This particular diet takes an entirely different approach to weight loss and improved fitness and nutrition.
Main benefits of a keto diet include:
weight loss
appetite control (easier with the type of food eaten)
more energy
works against type 2 diabetes 
better mental focus and for longer
Ingredients
Serves 1
1 piece of Lo-Dough, blitzed to a crumb
1 large egg, beaten
10g ricotta cheese
20g Cheddar cheese
75g of cooking Chorizo sausage (50g finely diced, 25g more coarsely chopped
1 tablespoon of olive oil
A few leaves of chopped parsley
Salt & pepper
For the garlic-mayonnaise
15g of Mayonnaise
1 clove of garlic, minced
What you'll need
This diet-friendly recipe is possible with:

Original Lo-Dough Bases
Regular price
from £3.49
Out of stock
Method
Oil a frying pan and soften the onion and chorizo gently for a 10 minutes. Try to keep the coarsely chopped chorizo separate and reserve for the end to garnish. Also, retain the oil in the pan to fry your fritters.
While the onions and chorizo fry, add your Lo-Dough, egg and both types of cheese to a bowl and mix. Once cooled, add the onions and finely chopped, fried chorizo and mix.
In a separate bowl, mix the mayo and minced garlic to make the garlic mayonnaise.
Shape the Lo-Dough mixture into two fritters in the oil left behind from the onions & chorizo and gently fry the fritter on both sides until golden brown and cooked through (for approx. 3 minutes per side).
Garnish with the remaining chorizo & parsley and serve alongside the mayonnaise and some salad. If desired, add a poached or fried egg.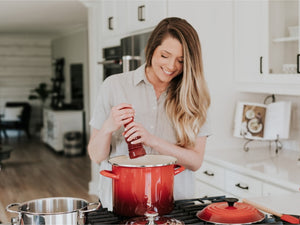 Hungry for more recipes?
Join over 200,000 subscribers in receiving new recipes, tips, offers and a whole lot more.