This is keto-cooking made easy. A few minutes prep will give you four filling portions of tasty quiche!
Lo-Dough quiche is a real hit with our customers and on our social channels and we wanted to make one that was perfect for the keto-lovers out there.
If you arent following a Keto diet, this is still a dramatically lower calorie quiche than any pastry alternative, so don't feel excluded.   
This one is about bacon, cheese, mascarpone, some nutrient-dense greens and of course, the Lo-Dough base. Lots of healthy fats, a decent amount of protein and very low in carbs. Perfection!
Ingredients
Serves 4
One piece of Lo-Dough, rolled flat with a rolling pin
30g of grated mature cheddar cheese
4 streaky bacon rashers, grilled until crispy
50g of spinach, slightly wilted
4 large eggs, beaten
150ml of mascarpone
Salt & pepper
What you'll need
This diet-friendly recipe is possible with:

Original Lo-Dough Bases
Regular price
from £3.49
Out of stock
Method
Preheat the oven to 160C/325F/Gas 3.
Push the Lo-Dough into a 7-inch tin. Make sure to do this evenly, taking care to push it into the corners and create an upright edge.
Arrange the bacon and spinach in the Lo-Dough.
Whisk the 4 eggs and mascarpone in a bowl with the finely chopped parsley and season to taste with salt and pepper. Watch the salt as the bacon will be quite salty. Add the cheddar cheese on top.
Bake in the oven for 30 minutes. Take out and allow to cool on a rack for at least 10 mins. Enjoy warm or cold!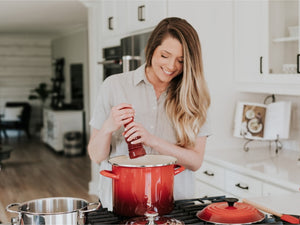 Hungry for more recipes?
Join over 200,000 subscribers in receiving new recipes, tips, offers and a whole lot more.