The low-calorie pizza version of a modern classic
Another melding of ingredients from different countries that might not seem suited, but trust us - it works! South Koreas fermented cabbage dish 'Kimchee' brings an incredibly complex, sour note to this pizza that works deliciously with the cheese. no online that, but kimchee is a pre-biotic food and is great for gut health. Win-win. 
Whereas a 'Kimcheese' normally takes the form of a grilled cheese sandwich, we've seen fit to do ours as a pizza. The result is pizza perfection and low-calorie to boot! 
Kimchee is available online, in Asian supermarkets and in some supermarkets. 
Ingredients
Serves 1
1 piece of Lo-Dough
50g of kimchee
75g of grated mozzarella
2 tablespoons of passata
A twist of black pepper
What you'll need
This diet-friendly recipe is possible with:

Original Lo-Dough Bases
Regular price
from £3.49
Out of stock
Method
Preheat your oven to 220°C/428 F.
Spread the passata across the Lo-Dough in a thin layer, right up to the edge.
Spread the 60 of the grated cheese on top of the passata and add the kimchee. Top with the remaining cheese and bake in the oven for 7-10 minutes, or until golden and bubbling.
Serve with a crack of black pepper on top.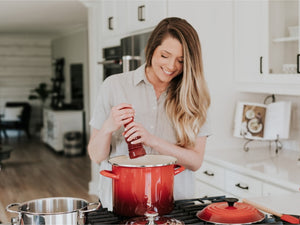 Hungry for more recipes?
Join over 200,000 subscribers in receiving new recipes, tips, offers and a whole lot more.