We all need to eat naughty things like Lasagna without the extra you know what. For a healthy spin on the dish, this is hands down, one of best uses of Lo-dough we have seen to date: A skinny steak lasagne that is thick, creamy and full of salubrious flavour.
Whilst a traditional homemade lasagna serving size contains between 400-500 calories and 20g carbs, the Lo-Dough version comes in at just 213 calories and 13g carbs per serving! Better yet, there's a whopping 26.5g protein in every slice. Perfect for a post-workout meal with the family.
Half of the calories, double the flavour.
Top tip: For optimum results, use a rolling pin to roll the Lo-Dough flat. This gives it an excellent lasagne-like texture.
Ingredients
Serves 6
2 pieces of Lo-Dough
500g 5% fat beef mince
1 green pepper (deseeded and chopped)
1 courgette, chopped into bite-sized pieces
1 finely chopped onion
2 bay leaves
A few leaves of fresh basil
250ml warm skimmed milk
2 tbsp plain flour
400g chopped tomatoes
2 tbsp high quality passata
1 tbsp minced garlic
100g grated Eatlean cheese
Frylight
Salt & cracked black pepper
Crunchy salad to serve
What you'll need
This diet-friendly recipe is possible with:

Original Lo-Dough Bases
Regular price
from £3.49
Out of stock
Method
Using a large pan and a few sprays of Frylight, fry the onion, courgette, garlic and pepper for approx ten minutes until soft. Add the mince and fry until fully brown. Add the tomatoes with half a tin of water, along with the passata and bayleaf. Season well with salt and pepper and simmer for 30 minutes until the sauce is nice and thick.
Preheat the oven to 200˚C.
Using a second pan, spray with Frylight and add the flour until the oil has absorbed. Add the warmed milk a drop at a time and stir continuously until the mixture is completely smooth. Cook on a low heat until you have a thick white sauce. Season to taste.
Using a rolling pin, roll the Lo-Dough until it is completely flatt in equal parts, and cut into quarters.
Spray a medium sized lasagne dish with Frylight and spoon the mince mixture into the base along with half of the Lo-Dough sheets. Spread a layer of white sauce over the top. Add another layer of mince mixture and use the rest of the Lo-Dough to create a top layer. Add the remainder of the white sauce to the top of the dish and sprinkle with Eatlean protein cheese.
Bake in the oven for 30 minutes, or until the top is bubbling and golden. Remove from the oven, add a few leaves of Basil and serve immediately with your crunchy salad. Enjoy!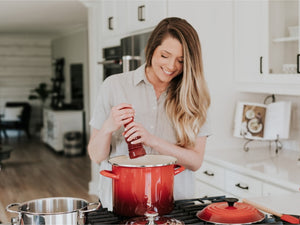 Hungry for more recipes?
Join over 200,000 subscribers in receiving new recipes, tips, offers and a whole lot more.