Low-Carb Quiche, Packed With Protein & Flavour
This Lo-Dough quiche is a stone cold dieting classic in the waiting. Nutty, slightly caramel flavoured Gouda cheese, smokey bacon lardons and soft sweet leeks held up in a creamy custard and a piece of Lo-Dough - this is the ultimate keto quiche. 
Use eggs and cream for the ultimate keto custard. Pour over thick-cut, fried lardons of full-fat bacon, a fist full of Dutch Gouda cheese and a few softened, sliced rounds of leek (maybe around half of one per full quiche). Put the mix into a Lo-Dough quiche base, made in a 7inch tin and what you have is one of the most indulgent dishes you could wish for - with hardly any carbs in sight!

Keto-Friendly Quiche 
Anyone who has been on a keto diet will tell you that the biggest challenge is being consistent, and keeping up the good work. Weeks and months go by and the temptation to fall off the wagon and eat massive pizza can get too much. Lo-Dough offers a magical solution to this, in that it IS your bread, your pizza base, and your ultimate alternative to the things you would normally miss out on. If you are maintaining ketosis but you could murder a delicious pizza, go ahead!
In this case, it's pastry we are replacing with Lo-Dough. While the fat in pastry may not be a problem for someone in ketosis, the flour certainly will be. Even wholemeal flour is laden with carbs and makes pastry a no-go area for Keto-dieters.
Give this quiche a try today - you won't be disappointed. 
Ingredients
Serves 4
One piece of Lo-Dough, rolled flat with a rolling pin
100g of grated Gouda cheese
100g of smoked bacon lardons, fried until crispy
70-100g of leeks, sliced and gently softened in a little butter
4 large eggs, beaten
150ml of cream
Salt & pepper
What you'll need
This diet-friendly recipe is possible with:

Original Lo-Dough Bases
Regular price
from £3.49
Out of stock
Method
Preheat the oven to 160C/325F/Gas 3.
Push the Lo-Dough into a 7-inch tin. Make sure to do this evenly, taking care to push it into the corners and create an upright edge.
Arrange the lardons, leek and most of the cheese in the Lo-Dough.
Whisk the 4 eggs and cream in a bowl with any finely chopped herbs you might desire and season to taste with salt and pepper. Watch the salt as the bacon will be quite salty. Add the last bit of cheese on top.
Bake in the oven for 30-35 minutes. Take out and allow to cool on a rack for at least 10 mins. Enjoy warm or cold!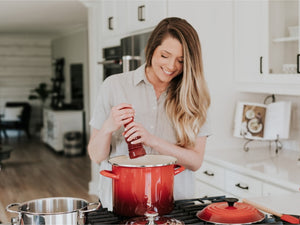 Hungry for more recipes?
Join over 200,000 subscribers in receiving new recipes, tips, offers and a whole lot more.