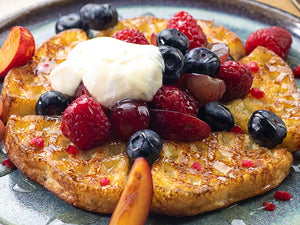 gluten-free
vegetarian
Lo-Dough Waffles & Mixed Fruit With NKD Living Syrup
Share
Facebook
Twitter
WhatsApp
Email
Low-carb waffles are a cinch with Lo-Dough and NKD Living's sweetener products!
Cooking isn't just about flavour marriages. Certain products perfectly go together nutritionally too and for low-carb baking, combining the low-carb, fibre-packed powerhouse of Lo-Dough with the brilliantly low-sugar and sugar free products of NKD Living is one way ticket to healthy baking success. 
This is a serious portion too - guaranteed to get you going in the morning!
This is low-calorie cooking with maximum flavour - trust us, these waffles are just one of many examples of low-sugar desserts we have to offer. 

Breakfasts don't get much sweeter than this! 
Ingredients
Serves 1
1 piece of Lo-Dough, blitzed to fine crumbs
1 large egg, beaten
3-4 teaspoons of NKD Erythritol
A little vanilla paste
40ml of milk
Approx 40ml of water (or enough to loosen the batter to a thick pancake patter consistency)
Half a teaspoon of baking powder
What you'll need
This diet-friendly recipe is possible with:

Original Lo-Dough Bases
Regular price
from £3.49
Out of stock
Method
Preheat your oven to 200C/Gas 6. Add all the ingredients to a bowl and mix well.
Pour into your mould.
Cook in the oven for 15-20 minutes. To improve the crispness of the outside of the waffle. Take out of the mould after 15 minutes and cook on the other side for the last 5 minutes.
Serve with accompaniments of your choice. We fully recommend NKD syrup!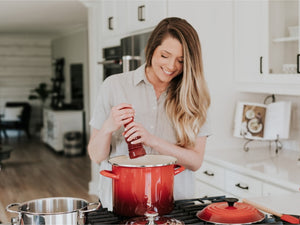 Hungry for more recipes?
Join over 200,000 subscribers in receiving new recipes, tips, offers and a whole lot more.