This Low-Calorie Pizza Marks The Changing Of The Seasons
A great twist to any pizza is to swap out the tomato sauce for something a bit different. Most commonly seen on pizzeria menus is the swap for a white sauce - pizza bianca. A twist we like to go with during autumn is a swap for pumpkin puree. It seems a shame not to use them while they are around! Now obviously, you wouldn't just make enough puree for just the 50g you spread on a pizza. Make a batch and use it for a fantastic soup, but just save a little back for this fantastic pizza!  
To make your puree, you are best roasting your pumpkin (approx. half) or squash in the oven, having cut it into wedges first. You should season with salt & pepper and can also add herbs, chilli and garlic if desired for extra flavour. After 30 minutes in a hot oven, the flavour will have concentrated and the pumpkin flesh cooked through. Scrape the pumpkin flesh away from the skin and put into a liquidiser or blender. Add some stock and blitz. Continue to add the stock until the mix has turned into a thick puree. Check for seasoning and adjust if necessary. 
Ingredients
Serves 1
1 piece of Lo-Dough
50g of pumpkin puree (see method in description above)
20g smoked ham
60g grated cheddar
30g of mushrooms, finely sliced
15g of raw kale, chopped into approx. inch pieces
A quarter of a red chilli, finely sliced
A twist of black pepper
What you'll need
This diet-friendly recipe is possible with:

Original Lo-Dough Bases
Regular price
from £3.49
Out of stock
Method
Preheat your oven to 250°C/475F/Gas 9.
Spread the puree across the Lo-Dough in a thin layer, right up to the edge.
Spread the grated cheese on top of the puree and arrange the mushrooms, kale, ham and chilli on top. Put the pizza in the oven for 7-10 minutes or until golden and bubbling.
Serve with a crack of black pepper on top.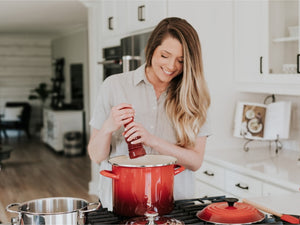 Hungry for more recipes?
Join over 200,000 subscribers in receiving new recipes, tips, offers and a whole lot more.