Gooey low-calorie brownie pots - the perfect pud
Did you know you can use our Brownie Mix to make incredible, hot chocolate, low-calorie desserts for one?
Quick and easy chocolate puddings
By measuring out 50g of the mix, mixing with 50ml of water and baking in an oven-proof ramekin and serving with a dollop of low-calorie ice-cream, you'll have a perfect treat to round off any meal. This is comforting, warming and delicious - and all yours (including the ice cream) for under 250 kcal!
Ingredients
Serves 1
50-55g of Lo-Dough Brownie Mix
50ml of water
What you'll need
This diet-friendly recipe is possible with:
Lo-Dough Brownie Mix
Regular price
£5.59
Out of stock
Method
Add the 50g of Brownie mix to a mug and add 50ml of water. Mix well.
Add to an oven proof ramekin and bake in at 190C for around 20 mins. Take out and allow to stand for 5 minutes. Serve with some low-cal ice cream, cream or creme fraiche for a perfect hot dessert.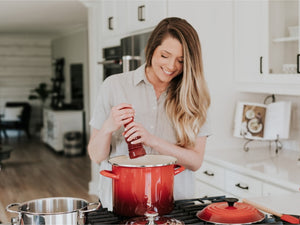 Hungry for more recipes?
Join over 200,000 subscribers in receiving new recipes, tips, offers and a whole lot more.