Low-calorie cheesecake recipes are possible. Just make them with Lo-Dough
The words 'banoffee' and 'cheesecake' don't immediately associate with low-calorie food, but made using Lo-Dough and with a few simple hacks, delicious, but low-cal cheesecakes can be yours. 
Simple Cheesecake recipes
We've gone fridge set this time, to keep things super simple, although we have baked cheesecake recipes too on the site. 
We think you are gonna love this one - low cal, low-carb, high in fibre and utterly delicious.  
Ingredients
Serves 1
20g of leftover Lo-Dough Vanilla Sponge cake, crumbled
1 teaspoon butter
2 tablespoons of sugar-free syrup
100g of 'lightest' cream cheese
half a level teaspoon of xanthan gum (or cornflour)
2 teaspoons of erythritol
Approx ⅓ of a banana, slice into rounds
Method
Blitz your Lo-Dough to fine crumbs in a food processor.
Melt the butter in a pan on a medium heat and add the Lo-Dough cake crumbs and after a couple of minutes, one tablespoon of the skinny syrup. Cook for 2 further minutes until the crumbs have turned golden and crisp.
Add the crumbs to the bottom of a glass and press down with the back of a spoon.
While the crumbs set firm, Caramelise the banana with the remaining syrup in the same pan. Mix the cheese, xanthan gum (or cornflour) and erythritol in a bowl.
Once ready, add the cheese mix on top of the crumbs and top with the caramelised bananas. Chill before serving.
Double or triple the measurements in this recipe and have a couple of spares in the fridge for the next few days.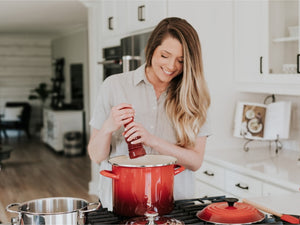 Hungry for more recipes?
Join over 200,000 subscribers in receiving new recipes, tips, offers and a whole lot more.