gluten-free
vegetarian
Low-Cal Chocolate Brownie Eye-Ball Lollies!
Share
Facebook
Twitter
WhatsApp
Email
These low-calorie Halloween Treats are grizzly AND tasty. Perfect for a spooky party!
These fantastic low-cal, reduced sugar treats are a great Halloween alternative. They look brilliant—gross, sure, but trust us when we say they are far tastier than they look! 
Easy to make with our just add water brownie mix; follow the recipe below for a gruesome seasonal treat. 
Ingredients
Serves 9
1 pack of Lo-Dough Brownie Mix
120g white chocolate, melted
A little squeezable red edible paint for decoration
What you'll need
This diet-friendly recipe is possible with:
Lo-Dough Brownie Mix
Regular price
£5.59
Out of stock
Method
Make the Lo-Dough Brownie Mix as per the packet instructions, adding in 250ml water and mixing thoroughly.
Add the mix to your lined tin and bake for 20 minutes at 190C. This undercooks it slightly, but helps for this recipe. Allow to cool.
Get some clean gloves on, or have a bowl of water ready to wash your hands. Cut the brownie into nine and then squash and roll up into balls. Insert the lollipop sticks and dip the balls into the melted chocolate (save a little back to make the irises and pupils). Allow any excess to drip off. Cool and set the chocolate.
Mix the remaining chocolate with green colouring This will seize the chocolate, but make it mouldable into little eyes. Use darker colouring to make the pupils. Then add the red veins with the edible pain decoration.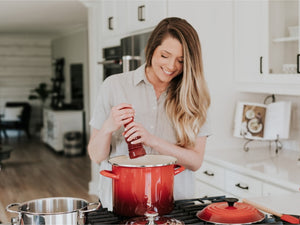 Hungry for more recipes?
Join over 200,000 subscribers in receiving new recipes, tips, offers and a whole lot more.