Use our just-add-water Brownie Mix and some mini chocolate eggs, you can make these amazing treats
Easter comes but once a year and if you are looking for reduced sugar treats that won't pile on the calories or massively ramp up the carbs, then these cupcakes are the ones for you. 
Baking our cupcakes in paper/silicone cake moulds gives a different slant to the usual square brownies and these can then be decorated with seasonally appropriate treats. 
This is a great recipe for kids and big kids alike!  
Low-sugar cake notes
Be aware, most additions will be adding sugar and/or calories to the basic cupcake. We have topped ours with a sweetened cream cheese frosting, flavoured with cocoa. We have added 2 leading brand mini eggs to each one. 
If trying to make them even lower in sugars, a simple, whipped cream topping would be even better in terms of sugar and you would be best sourcing sweetened, dark chocolate eggs - available online.
Ingredients
Serves 9
1 pack of Lo-Dough Brownie Mix
250ml waterTo top
25g soft butter
75g cream cheese
150g powdered erythritol
2 tablespoons of cocoa
18 mini chocolate eggs
What you'll need
This diet-friendly recipe is possible with:
Lo-Dough Brownie Mix
Regular price
£5.59
Out of stock
Method
Add 250ml water to Lo-Dough Brownie Mix and stir well.
Spoon heaped tablespoons (50g approx.) into little silicone/paper cake moulds and bake in the moulds for 15-18 minutes. Once made, allow to cool.
Mix the butter, cream cheese, erythritol and cocoa in a bowl. The easiest way to mix this will be with an electric whisk!
Add the chocolate frosting to the top and add a couple of chocolate mini eggs. Keep in the fridge in a sealed container for up to five days.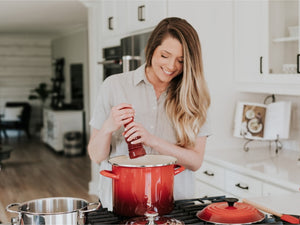 Hungry for more recipes?
Join over 200,000 subscribers in receiving new recipes, tips, offers and a whole lot more.