This Low-Calorie Pizza Is A Flavour Sensation 
You might not have realised that the combination of fig, blue cheese and prosciutto goes so well together, but trust us - it is a total delight. The strong blue cheese and salty ham work beautifully with the sweet figs. As with life, it's all about balance. 
As with all Lo-Dough pizzas, it's low calorie, low-carb, high fibre and high protein. 
If you're looking for something a bit different, but still a sure-fire crowd-pleaser, give this one a go.  
Ingredients
Serves 1
1 piece of Lo-Dough, briefly pre-browned in a pan
70g of gorgonzola
30g of prosciutto
1 small-medium fig, cut into eighths
30g of passata
What you'll need
This diet-friendly recipe is possible with:

Original Lo-Dough Bases
Regular price
from £3.49
Out of stock
Method
Preheat your oven to 220°C/Gas 8.
Spread passata across the Lo-Dough in a thin layer, right up to the edge.
Add the blue cheese, prosciutto and figs on the top.
Bake in the oven for 7-10 minutes, or until the pizza is golden and bubbling.
Remove the pizza from the oven and serve, with a crack of black pepper.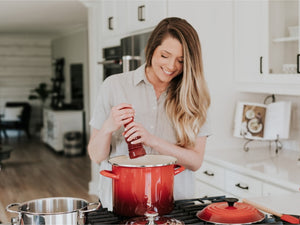 Hungry for more recipes?
Join over 200,000 subscribers in receiving new recipes, tips, offers and a whole lot more.