gluten-free
vegetarian
Low-cal French Onion Soup With Low-Carb Cheesy Croutons
Share
Facebook
Twitter
WhatsApp
Email
A comforting, cold-weather soup for the ages; this low-calorie winter meal will be a hit with your family and friends
French onion soup is just the thing on a cold winter's night. Slowly-cooked sweet onions, simmered in a rich stock; the kind of thing that'll warm you from the inside. So far, so healthy, but the thing that really sets this soup off are the cheesy croutons served on top, ready to soak up all those savoury flavours. 
Why no do them the Lo-Dough way? By using our original bases, you can have delicious cheesy croutons on a low-carb bread base, slashing the carbs and calories, without sacrificing any of that cheese flavour. 
If you are looking for a healthy winter pick me up, you could do a lot worse than this! 
Ingredients
Serves 6
1 Original Lo-Dough Base (per person)
50g finely grated cheddar cheese
50g of fat free yoghurt/creme fraiche/ricotta cheese
To make soup for 6 portions:
1kg onions, peeled and finely chopped
A leek, finely sliced
A clove of garlic, chopped
A teaspoon of chopped thyme
1 litre of beef stock
Seasoning
10 sprays of oil
What you'll need
This diet-friendly recipe is possible with:

Original Lo-Dough Bases
Regular price
from £3.49
Out of stock
Method
In a large pan, add the spray oil and slowly sweat the onion, leek, garlic and thyme for around 30 mins on a low heat. Keep stirring until the onions become soft, sweet and sticky.
Add the stock and simmer for a further fifteen minutes.
Transfer a portion to an oven proof bowl. Spread the yoghurt and cheese over your Lo-Dough, place on top of the soup and bake in the oven until the cheese is melted and oozing into the soup. Serve.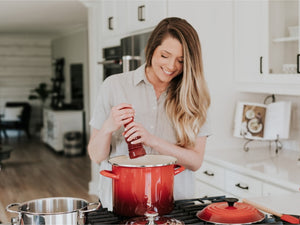 Hungry for more recipes?
Join over 200,000 subscribers in receiving new recipes, tips, offers and a whole lot more.