Make incredible low-calorie lunch wraps with Lo-Dough
For the ultimate quick low-calorie lunch, you can't beat a Lo-Dough wrap. As far as fillings go, you can do a lot worse than ham and cheese! However, our ham and cheese is a bit special. Prime cuts of sliced ham, oozy French brie, sliced gherkins, mixed salad and a delicious English mustard mayo make this a wrap you'll definitely want to try!  
By switching the bread or tortilla wraps for Lo-Dough, you slash the carbs and calories of your meal, so remember to be extra generous with the tasty fillings.
Ingredients
Serves 1
1 piece of Lo-Dough
2 slices of ham
50g of brie, sliced
A few gherkins, sliced
3-4 cherry tomatoes, halved
A handful of mixed leaves
1 dessert spoon of mayo mixed with half a teaspoon of English mustard
What you'll need
This diet-friendly recipe is possible with:

Original Lo-Dough Bases
Regular price
from £3.49
Out of stock
Method
Arrange all the ingredients on the Lo-Dough. Season to taste, roll and serve.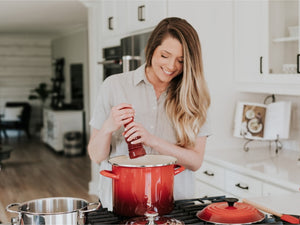 Hungry for more recipes?
Join over 200,000 subscribers in receiving new recipes, tips, offers and a whole lot more.