This delicious low-carb pizza is a real treat
Meatballs and pizza. Two things that go together brilliantly - and when made with Lo-Dough, it can be done in a low-calorie and low-carb way.
You can make your own meatballs if you like, but a great tip is to just squeeze some sausages out of their skins and roll the meat into balls. This meat will already be flavoured and seasoned, so saves you a job! Or if using Heck products, you can buy already seasoned mince, ready to go!   
Ingredients
Serves 1
1 piece of Lo-Dough
2 Heck Chicken Italia sausages
70g of grated mozzarella
2 tablespoons of passata
10g of red chillis, sliced
10g of red onion, finely chopped
2 mushrooms, sliced
A twist of black pepper
What you'll need
This diet-friendly recipe is possible with:

Original Lo-Dough Bases
Regular price
from £3.49
Out of stock
Method
Preheat your oven to 220°C/Gas 7.
Squeeze your sausages from their skins, and roll into little balls.
Spread the passata on the smooth side of your Lo-Dough, spreading right to the edge. Then add your cheese, again, right to the edge.
Add the meatballs, chilli, mushroom and the onion, spreading evenly.
Bake in your oven for 7-10 minutes, or until golden and bubbling. Serve straight away.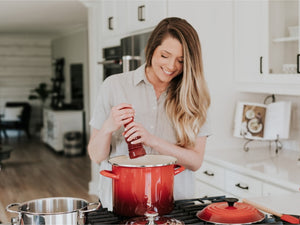 Hungry for more recipes?
Join over 200,000 subscribers in receiving new recipes, tips, offers and a whole lot more.