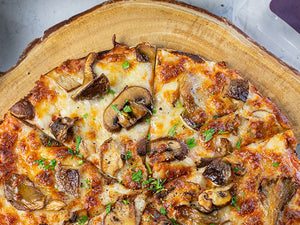 gluten-free
vegetarian
Low-Cal Mixed Mushroom & Truffle Oil Pizza
Share
Facebook
Twitter
WhatsApp
Email
A taste of low-calorie vegetarian decadence
Nothing says autumn like mushrooms and this pizza has three varieties, as well as a subtle drizzle of white truffle oil. Thanks to Lo-Dough, this heady, earthy seasonal pizza is both low-calorie and low-carb—pretty much suitable for any diet you choose.
You can pick whatever mushrooms you like, or can find. As the autumn months come in, you may even seen selections of wild mushrooms popping up on your supermarket shelves. Grab some—they are natures bounty and perfect for adding unique flavours and textures to your cooking.  
Ingredients
Serves 1
1 piece of Lo-Dough
100g of mixed mushrooms
1 clove of garlic, finely sliced
75g of mozzarella cheese
2 tablespoons of passata
1 teaspoon of truffle oil
Salt & pepper
What you'll need
This diet-friendly recipe is possible with:

Original Lo-Dough Bases
Regular price
from £3.49
Out of stock
Method
Preheat your oven to 220°C/428F.
On a high heat, fry your mushrooms in the spray oil until cooked. Add the garlic, plus salt and pepper and cook for a further minute.
Spread the passata across the Lo-Dough in a thin layer, right up to the edge.
Spread grated cheese on top of the passata, add mushrooms, then put the pizza in the oven for 7 minutes or until golden and bubbling.
Serve with a crack of black pepper and a drizzle of truffle oil on top.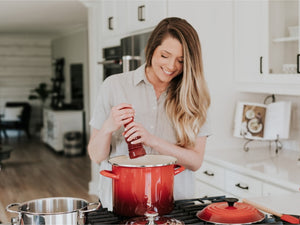 Hungry for more recipes?
Join over 200,000 subscribers in receiving new recipes, tips, offers and a whole lot more.