gluten-free
vegetarian
Low-Cal Pancakes with Mixed Fruit & Yoghurt
Share
Facebook
Twitter
WhatsApp
Email
For a healthy, nutritious start to the day, these fruity pancakes could be just the thing
Scotch pancakes can be rustled up in under 20 minutes with Lo-Dough and the batter can be made and kept covered in the fridge for up to 3 days. 3 medium-sized or 4 smaller pancakes - that come to just 157 calories whilst tasting amazing is pretty hard to beat. They might be low in calories, but they are super high in fibre, so they'll see you through the morning, no problem! 
Dressed up with a selection of fresh fruit and a good dollop of live yoghurt, this is a perfect start to the day or a simple dessert. 
Note - For this recipe, you will need a non-stick frying pan
Ingredients
Serves 1
1 piece of Lo-Dough, blitzed to fine crumbs
1 large egg, beaten
50ml of milk
2 heaped teaspoons of sweetener - we use erythritol
20 sprays of spray oil (or if on a keto diet - use butter)
What you'll need
This diet-friendly recipe is possible with:

Original Lo-Dough Bases
Regular price
from £3.49
Out of stock
Method
In a bowl, mix the Lo-Dough, beaten egg, sweetener and milk thoroughly. You can blend in a Nutri-bullet/liquidiser for a smoother batter. You should have a thick, nearly cake like batter.
Heat up a large frying pan (on a low heat) and spray approx. 10 times with the oil (or melt some butter). Add four good spoons of the mix into the pan to create 4 pancakes.
Once ready to turn, lift each pancake with a spatula and before flipping over, quickly add another couple of sprays of oil to the bit of the pan where it came from.
Once ready, serve with some mixed fruits and a good dollop of yoghurt.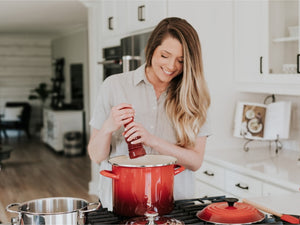 Hungry for more recipes?
Join over 200,000 subscribers in receiving new recipes, tips, offers and a whole lot more.