Don't Miss Out On Sweet-Treats. Make Them WIth Lo-Dough
This fruit flan is healthy, tasty and easy to make, as well as being an economical use of your Lo-Dough. By swapping out the pastry for Lo-Dough and switching sugar to a quality sweetener, you completely re-design the nutritional composition of the dish, without altering its incredible flavour. The peaches lend sweet, fruity flavour and the almonds supply a fantastic, textural counterpoint to the soft custard filling. The whole thing is held together by the ever-reliable Lo-Dough! 

Low-Carb Desserts? Not A Problem!
Check out the macros - Each serving is only 211 calories, 4.25g carbs (Just 2g of sugar!). Whereas regular pastry is full of both fat and carbohydrate, each piece of Lo-Dough is only 39 calories and 2.2g of carbs. This gives you the leeway to pair it with all kinds of tasty and indulgent fillings - whether sweet or savoury. If you are dieting to slim, keeping ahead with your general health or have personal gym goals, this should come as fantastic news to you! 
Desserts are one of life's great pleasures and now that you can indulge AND stay on plan, there is no reason not to be enjoying them regularly and with glee!
Bon appetit!!
Ingredients
Serves 4
1 piece of Lo-Dough
4 eggs
Half a tin of peach slices (juice drained off)
150ml of half fat creme fraiche
30g of sweetener (Sukrin: 1 recommended)
20g of flaked almonds
A teaspoon of vanilla paste
What you'll need
This diet-friendly recipe is possible with:

Original Lo-Dough Bases
Regular price
from £3.49
Out of stock
Method
Preheat your oven to 140c/Gas Mark One.
Roll out your Lo-Dough and push into a 7-inch tin.
Arrange your peach slices around the Lo-Dough.
Make a simple custard mix by whisking the eggs together with the creme fraiche, sweetener and vanilla.
Pour in the custard mix over the peaches and put into the oven to bake for 35-40 minutes. The custard should be set, but still have a bit a wobble.
Allow to cool on a rack for at least 20 minutes. While it cools, quickly toast the flaked almonds in a dry pan and scatter over the top of the flan.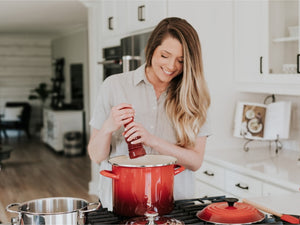 Hungry for more recipes?
Join over 200,000 subscribers in receiving new recipes, tips, offers and a whole lot more.