A classic topping for this low-calorie pizza
Love them or hate them, you can't deny that anchovies have been linked to pizzas for quite some time. As far as we're concerned, it's a big yes! Their salty, savoury kick combined with the briny tang of capers makes a perfect pizza topping. 

As with all Lo-Dough recipes, we're looking at something that is incredibly low-calorie, low-carb and high fibre - whilst remaining full-flavoured and satisfying. 
Ingredients
Serves 1
1 piece of Lo-Dough
30g of passata
70g of grated mozzarella
4-5 anchovy fillets, halved
A teaspoon of caper berries
What you'll need
This diet-friendly recipe is possible with:

Original Lo-Dough Bases
Regular price
from £3.49
Out of stock
Method
Preheat your oven to 250°C/475F/Gas 9.
Spread the passata across the Lo-Dough in a thin layer, right up to the edge.
Spread the grated cheese on top of the passata, again right to the edge and add the anchovies and capers on top. Put it in the oven for 7 minutes or until golden and bubbling.
Serve with a crack of black pepper.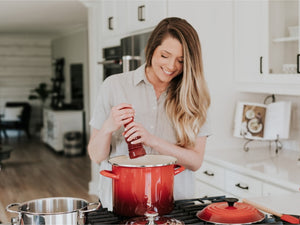 Hungry for more recipes?
Join over 200,000 subscribers in receiving new recipes, tips, offers and a whole lot more.