A Low-Cal Soup With Seafood Side For Just 259 Calories & 6g Of Fat
This Spanish classic is usually served in the height of summer owing to the fact that it is served as a cold soup (it is traditionally prepared over ice). Don't let that put you off trying it at any time this year - the fresh, garlic-tinged flavour will transport you to sunnier climbs regardless of how the weather is outside. Because it's made using fresh produce, no fat needs to be added, keeping this soup light and lip-smacking. 
But what to serve with it to make it a bit more substantial? Well, having kept things so gloriously healthy in the bowl, it would be a shame to pair it with some kind of refined carbohydrate - basically, regular bread. That's where Lo-Dough comes in. Now, you could dip Lo-Dough in your soup straight out the packet, and that's fine. You could add a little cheese, garlic and herb to make a simple garlic bread - beautiful. But this time we wanted to take things in an even more flavoursome direction - and still very much on the Spanish theme: Lo-Dough prawn fritters. These nuggets of seafood gold are packed with paprika and prawn flavour and boost the overall meal's protein and fibre content to the max. 
Making Low-Carb Fishcakes
These use blitzed Lo-Dough - basically, Lo-Dough whizzed to a fine crumb in a food processor. Just add prawns, an egg, paprika, a garlic clove and a squeeze of lemon and blitz to a paste, then fry briefly until golden brown. Perfect on their own, dipped into a garlic-mayonnaise, or in this case, dunked or soaked in your gazpacho. 
There are plenty of gazpacho recipes online. Find one that best suits your palette and make a decent-sized batch to last a couple of days. We'll give you a basic recipe below for one portion. 
When enjoying soup, don't forget that the side you choose can undo all the good work your soup is doing. This whole dish is just 17g of carbs - and almost all of that comes from the delicious and healthy vegetables in your soup-bowl. That's why we always recommend Lo-Dough.  
Ingredients
Serves 1
For the fritters
1 piece of Lo-Dough, blitzed to a crumb
1 large egg, beaten
100g of prawns, raw or cooked will work
A teaspoon of parika
1 clove of garlic, finely chopped
A small handful of chopped parsley, finely chopped
A squeeze of lemon juice
10 sprays of oil
Salt & pepper
For the gazpacho
2 vine-ripened plum tomatoes, roughly chopped
⅓ of a red pepper, roughly chopped
⅓ of a green pepper, roughly chopped
20g of red onion, roughly chopped
⅓ of a cucumber, roughly chopped
1 clove of garlic, roughly chopped
1 tablespoon of cider vinegar
A little pasata/tinned tomato to help liquidise the mix - start with a tablespoon
1 teaspoon of sweetener
A few leaves of basil
Salt and pepper
What you'll need
This diet-friendly recipe is possible with:

Original Lo-Dough Bases
Regular price
from £3.49
Out of stock
Method
To make the gazpacho, blitz all the ingredients in a liquidiser until smooth. Ensure the soup is well seasoned - as serving cold, it will require a little more salt than normal. Chill in the fridge for a minimum of 1 hour.
To make the fritters, add all the ingredients to a bowl and mix. Place into a food processor and blitz until you have a coarse paste. Season with salt and pepper.
Add spoons of the paste into a frying pan, sprayed with the oil. We recommend around 5-6 small nuggets per portion. They dont need to be perfect or round. Cook on a low-medium heat for approx 5 minutes, flipping half way.
Serve the soup either over the fritters in a bowl, or with the fritters on the side.
🍽 Serving Suggestion
Add a fine dice of all the gazpacho ingredients on top for a little extra crunch.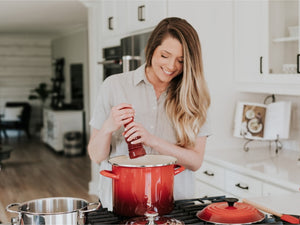 Hungry for more recipes?
Join over 200,000 subscribers in receiving new recipes, tips, offers and a whole lot more.