This classic sweet dessert combo makes for the most perfect low-calorie cake
Is it school dinners and their stodgy puddings or even the sweetshop counter that makes rhubarb and custard such an evocative flavour combination?
Nostalgia or not, those old school classics were full of sugar and fat, so here, we've come up with a much more modern take on the combination. Using our low calorie cake mix, you can enjoy all the same flavour you remember, but for significant less calories and for next to none of the carbs and sugars. 
Ingredients
Serves 6
1 Lo-Dough vanilla sponge mix
240g of water
80g Rhubarb, cut into batons
20g erythritol
50g low-sugar granola
50g of 'light' custard
What you'll need
This diet-friendly recipe is possible with:

Lo-Dough Vanilla Sponge Mix
Regular price
£2.50
£5.49
Out of stock
Method
Make up the Vanilla Sponge Mix according to the packet instructions (Oven preheated at 180C). Microwave your rhubarb with a the sweetener for 2-3 minutes or until tender. Once the cake mix is in the tin, top with the cooked rhubarb and the granola.
Bake the mix for 35 minutes, then allow to cool, again as per the instructions.
Serve with the custard.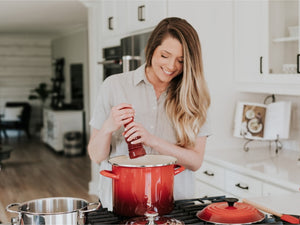 Hungry for more recipes?
Join over 200,000 subscribers in receiving new recipes, tips, offers and a whole lot more.