The taste of summer, but on a low-calorie pizza 
Light, colourful and so, so delicious, this pizza will have you salivating. Eat outdoors in the sun (maybe with a glass of rosé) and close your eyes; you could be on a Mediterranean holiday, living the high life! 
Thanks to Lo-Dough, this pizza is super low-calorie and low-carb without sacrificing any of the amazing taste. 
Ingredients
Serves 1
1 piece of Lo-Dough
30g of green pesto
20g of thinly sliced pepper
30g of passata
40g of grated mozzarella
40g of fresh ricotta cheese
A few slices of fresh chilli (optional)
What you'll need
This diet-friendly recipe is possible with:

Original Lo-Dough Bases
Regular price
from £3.49
Out of stock
Method
Preheat your oven to 250°C/475F/Gas 9.
Spread the passata across the Lo-Dough in a thin layer, right up to the edge.
Top with 40g of mozzarella, then dot with half teaspoons of ricotta, pesto and a few slices of pepper, as well as the chilli if desired.
Put the pizza in the oven for 7-10 minutes or until golden and bubbling.
Serve with a crack of black pepper.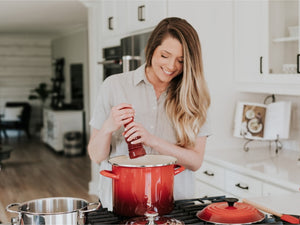 Hungry for more recipes?
Join over 200,000 subscribers in receiving new recipes, tips, offers and a whole lot more.