gluten-free
Slimming-Friendly Smoked Salmon & Cream Cheese Wrap
Share
Facebook
Twitter
WhatsApp
Email
This Low-Calorie Sandwich Wrap Is A Perfect Lunchtime Meal
Or, a post-workout meal for that matter. Tasty as you like, as well as low-cal, low-carb, low-fat high protein and high fibre, this is another Lo-Dough creation that has it all.
Smoked salmon and cream cheese is a combination that has stood the test of time and who are we to argue with that. Classic food pairings are classic for a reason. Soft creamy cheese acts as the perfect foil to the slightly more toothsome smokey salmon. Tomatoes and salad add freshness, the onion gives it a little bite and the radish a slight peppery crunch. Top the whole thing off with a squeeze of lemon and a good pinch of black pepper (another of smoked salmon's best friends) and you are on to a winner of a wrap - tastes, textures, the lot. 
A Low-Carb Bread Solution
The key to this wrap's incredible macros as ever is Lo-Dough. When making a wrap, a great tip is to use a rolling pin to flatten out the Lo-Dough. This gives it a far more tortilla style texture. But unlike a regular tortilla, Lo-Dough isn't hiding any sneaky carbs or calories in its thin structure. What's more, Lo-Dough, flattened or not, is packed with fibre - one-third of your daily recommendation. 
More Low-Carb Wraps
Lo-Dough wraps revolutionise the quicky and easy food we love to eat on the fly. Check out a number of our other wrap recipes today.   
Ingredients
Serves 1
1 piece of Lo-Dough
60g of smoked salmon
60g of light cream cheese
A few salad leaves
Half a plum tomato, thinly sliced
1 radish, thinly sliced
A few thin slices of thin red onion
A squeeze of lemon juice
Salt & pepper
What you'll need
This diet-friendly recipe is possible with:

Original Lo-Dough Bases
Regular price
from £3.49
Out of stock
Method
Roll out your Lo-Dough thinly between two sheets of the paper found in the packet with the Lo-Dough.
Arrange all the ingredients on the rolled-out Lo-Dough.
Squeeze over a little lemon and season to your liking. Wrap up and tuck in!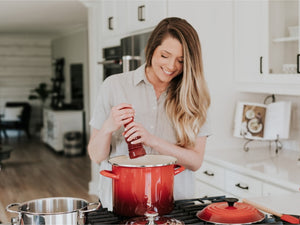 Hungry for more recipes?
Join over 200,000 subscribers in receiving new recipes, tips, offers and a whole lot more.