A low-cal winter comfort treat for those with a sweet tooth
Apples and spice just pair so perfectly at this time of year - think whether it's in pies, turnovers, tarts, or in this case, muffins. Not just any muffins — these are made with the Lo-Dough vanilla sponge mix, meaning you get delicious spiced apple cakes for a fraction of the calories and carbs and with a huge fibre boost too. 
Perfect as a breakfast, dessert or the perfect snack between meals, whether served as they are or topped with something indulgent - how and when you eat them is completely up to you. 
Ingredients
Serves 6
1 Lo-Dough Vanilla Sponge Mix
240ml water
100g apple, diced
A teaspoon of cinnamon
Method
Preheat your oven to 180°C/Gas 4.
Make up the Vanilla Sponge Mix with the 240ml of water as per packet instructions.
Microwave the apples for 1 minute and stir through with the cinnamon. Divide into 6 greased paper muffin cups in a greased muffin tin or a silicone muffin mould.
Bake for 30 minutes or until lightly golden. Allow to cool for at least 15 minutes before serving. Delicious warm or cold, plain or decorated.
Use spray oil to grease your muffins moulds to keep those calories down!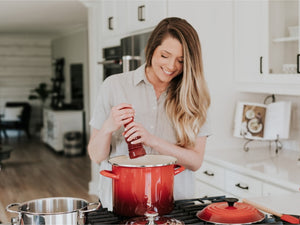 Hungry for more recipes?
Join over 200,000 subscribers in receiving new recipes, tips, offers and a whole lot more.