Turn a freezer/pantry staple into a delicious, low-calorie light lunch
These fritters are low-carb, low-cal, high-fibre and taste incredible. They take 5 minutes to prepare and about 5 minutes to cook as well, so for convenience, look no further. It's a perfect light lunch - serve with a dipping sauce and maybe a little salad.
If cooking for friends or loved ones, or just getting ahead on some meal prep they can even be prepared ahead and kept in the fridge or even frozen and then heated through an oven at a later date.
Low-calorie vs low-carb cooking tips
If trying to keep the fat and calories down, use low-cal spray oil as your cooking medium. If low-carb/keto, shallow fry in a healthy fat such as avocado oil (this will bring up the calories a little). Either way, allow them to build up a golden crust before turning to make sure they hold together well.  
Ingredients
Serves 1
1 piece of Lo-Dough, blitzed to a fine crumb
1 large egg, beaten
100g of sweetcorn, half lightly crush with a fork
A little fresh red chilli, finely chopped (or chilli flakes)
A small handful of fresh parsley, finely chopped
1 spring onion
30g of grated mozzarella
Salt & pepper
10 sprays of oil (or a good splash of avocado/olive oil for keto)
What you'll need
This diet-friendly recipe is possible with:

Original Lo-Dough Bases
Regular price
from £3.49
Out of stock
Method
Add all your prepared ingredients to a bowl and mix well.
Form into 6-8 small patties/fritters - they don't need to be perfectly circular!
Fry on a low-medium heat for approx. 3 minutes a side, or until golden brown.
Serve alongside a simple salad, with a dipping sauce of your choice.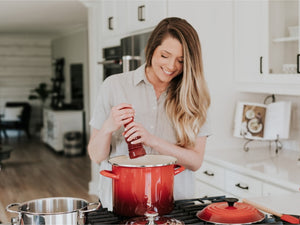 Hungry for more recipes?
Join over 200,000 subscribers in receiving new recipes, tips, offers and a whole lot more.