This Is As Tasty As Pizza Can Get!
Umami is known as the fifth flavour (the others being bitterness, sweetness, saltiness and sourness). It is best described as savouriness and is prevalent in anything from anchovies, parmesan, mushrooms, tomatoes, cured meats and much more. While largely unheard of in the west a couple of decades ago, it was already well understood and thoroughly explored in various Asian cuisines - particularly Japanese food. 
For our Umami-Bomb pizza, we have gone all out on umami-rich ingredients. We have added an anchovy sauce to our passata, mixed parmesan with mozzarella for the top and added serrano ham and a splash of mushroom ketchup on top of that (Worcester Sauce would be a good replacement if you didn't have mushroom ketchup). To contrast with all this, there are a few sweet caramelised onions, chillis and capers, to balance all the salty, rich flavour. 
Low-Calorie Pizza With Maximum Flavour
As you can imagine, this is a flavour sensation - hitting your tastebuds from every angle. It's adaptable too... if you don't like anchovies, you can leave them out -maybe add a little more parmesan to keep up the intensity of the umami hit. 
If you are looking for something a bit different, but that still makes TOTAL sense, you've got to give this pizza a try!
Ingredients
Serves 1
1 piece of Lo-Dough
70g of grated mozzarella
15g parmesan, finely grated
25g of passata
5ml of anchovy sauce
10ml of mushroom ketchup
A slice of serrano ham, ripped into pieces
A few jalepeno chillis, drained
1 teaspoon of capers
20g of caramelised onions
A little spray oil
What you'll need
This diet-friendly recipe is possible with:

Original Lo-Dough Bases
Regular price
from £3.49
Out of stock
Method
Preheat your oven to 250°C/475F/Gas 9.
Spray the oil into the pan and fry off your Lo-Dough to add some colour to the base.
Put the browned Lo-Dough onto your cooking mesh/grill bars/pizza stone/air-fryer stand. Mix the anchovy sauce paste with the passata and spread onto your Lo-Dough, making sure to spread it right to the edge. Add the caramelised onions here and there.
Add the mozzarella on top, distributing as evenly as possible. Grate over the parmesan Add the rest of the ingredients around and give the whole thing a good splash of the mushroom ketchup.
Bake in your oven for 7-10 minutes, or until golden and bubbling. Serve straight away.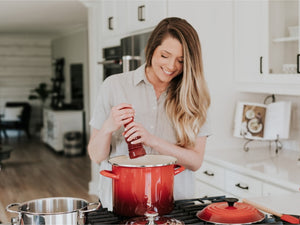 Hungry for more recipes?
Join over 200,000 subscribers in receiving new recipes, tips, offers and a whole lot more.