Check out this veggie 'twist' on a low-calorie pizza
Stromboli is an Italian-American twist on the the more classic flat bread pizza. It's every bit as delicious as pizza, but offers a slight difference in texture. 
The beauty of making it with Lo-Dough is you really don't have to compromise on flavour. We have gone with a low-fat mozzarella here to make it suitable for slimmers, but if following a low-carb diet or just fancy something a little richer, you can enjoy full fat cheese and still expect to slash the calories of a standard pizza. Carbs? Forget about it. This whole veggie pizza contains just 6g. 
Ingredients
Serves 1
1 piece of Lo-Dough
3 thin slices of aubergine, lightly fried in spray oil
4 thin slices of courgette, lightly fried in spray oil
6 thin slices of portobello mushroom lightly fried in spray oil
80g of light fresh mozzarella, sliced as thin as you can and dried on a piece of kitchen roll (mix or swap with grated mozzarella if that's all you have)
2 tablespoons of passata
1 egg, beaten
A pinch of oregano
What you'll need
This diet-friendly recipe is possible with:

Original Lo-Dough Bases
Regular price
from £3.49
Out of stock
Method
Preheat your oven to 220°C/428 F.
Spread the passata across the Lo-Dough in a thin layer, right up to the edge.
Spread the thinly sliced mozzarella on top of the passata and add the sliced, fried vegetables. Roll the pizza up, brush with a little beaten egg, then top with the herbs.
Bake in a tightly fitting dish for 10-15 minutes. Cut into bite sized swirls and serve with extra sauce if desired.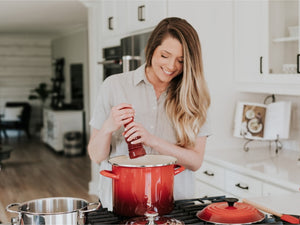 Hungry for more recipes?
Join over 200,000 subscribers in receiving new recipes, tips, offers and a whole lot more.