An amazing leftovers dish, but worth making in its own right. Our low-calorie egg rolls are a must try!  
Simple and oh so tasty, these Oyster mushroom, veggie egg rolls (by all means, make them meaty if you like) hit all the spots in terms of flavour, nutritional make up and sheer simplicity. This does not taste like a 177 kcal dish—not one bit. You certainly won't believe it only contains 10g of carbs either. But trust us, we've checked and double checked our calculations, because it kind of blew our minds too! This is the real deal: low-calorie, low carb, super tasty Chinese-style food.
Top tip - You don't have to seal the egg roll! Feel free to cook the soaked Lo-Dough separately as a pancake and add the ingredients afterwards. Then just roll up and serve, making the recipe even easier still!
The future of low-calorie Asian-inspired food is right here.
Ingredients
Serves 1
1 Original Lo-Dough Base
1 egg, beaten
1 king oyster mushroom, roasted and sliced
50g mixed stir-fried vegetables
15g of spicy chilli sauce
2-3g of sesame seeds (black or white)
To garnish
Spring onions, chilli, coriander and pickled ginger
What you'll need
This diet-friendly recipe is possible with:

Original Lo-Dough Bases
Regular price
from £3.49
Out of stock
Method
Soak the Lo-Dough in the beaten egg. 20 minutes will suffice, but this can be left in the fridge overnight.
Place the mushroom and veg in the middle and drizzle with the sauce before folding the sides over to make a parcel.
Over a medium heat, in a little spray oil, fry the parcel fold side down to seal the parcel shut. Sprinkle with sesame seeds and flip over after 2-3 minutes. Cook the other side until golden.
Serve with the raw garnishes and extra sauce if desired.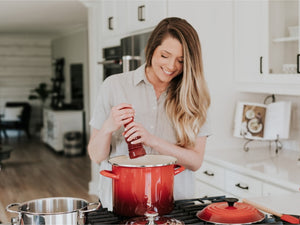 Hungry for more recipes?
Join over 200,000 subscribers in receiving new recipes, tips, offers and a whole lot more.